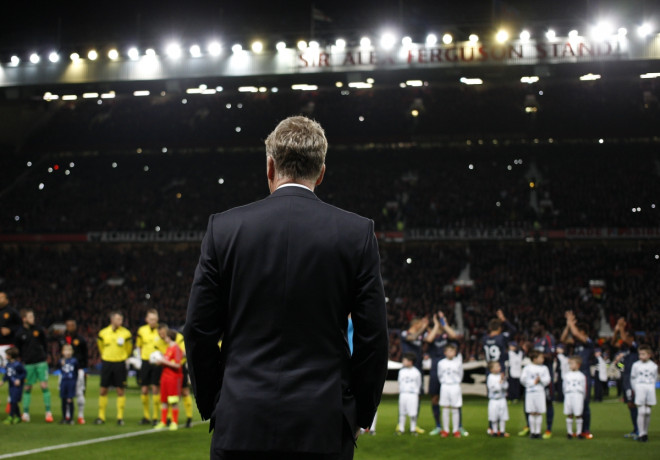 If reports that players and supporters at Manchester United have lost faith with David Moyes are accurate, then both parties have a curious way of showing it.
For the visit and ousting of Olympiakos in the Champions League last 16 second leg, virtue of Robin van Persie's classy hat-trick, United's players rediscovered an intensity and verve which cemented their devotion to the manager.
Elsewhere, United's support – who have often been criticised for Old Trafford's soporific atmosphere – responded to Moyes' rallying call with a wall of noise which inspired a surge to the quarter-final. A reception which indicates their loyalty to Sir Alex Ferguson's successor is anything but diminishing.
After a week in which both had seemingly questioned Moyes' competence at the Old Trafford helm, the reaction was an unequivocal vote of confidence. If there is a modicum of reality in either party's grievances, they were undermined in one 90-minute swoop against the Greek champions.
With little form to speak of, United played with an unmatchable energy. Antonio Valencia and Danny Welbeck hustled and harried, Van Persie chased and Wayne Rooney crunched in the tackle. Not the performance or commitment of a team losing faith.
In the inevitable last year of his contract, Ryan Giggs was the velvet glove over the iron fist. The 40-year-old no longer drifts in and out of form, he is form is its truest sense.
The flighted pass which teased Jose Holebas into shoving Van Persie for the penalty which lit the blue-touch paper, and that which found Rooney in first-half stoppage time before the Dutchman made it two, were as majestic as they were expected.
Moyes' other get-out clause was David de Gea, who made inspired saves either side of the break and was voted United's man of the match by supporters. Some achievement in an era where goals seemingly result in hazy rationale behind such awards.
It was not the only judgment United's fans called correctly. Instead of airing criticism regarding Moyes following the debilitating 3-0 defeat to Liverpool (however strong that might be) they stuck by the club in their hour of need.
Nor did it come across as artificial, as a temporary requirement or a short-term solution. Fanzines, social media, radio phone-ins and forums might suggest different, but the core United support remains behind the chosen one. This time, the silent majority chose to be anything but silent.
Further inspiration before the end of the season is required, not least evidence United's performances can be supplemented by quality and not just a hard work ethic. That caveat remains.
A win painted as a watershed, kick-start and defining moment of Moyes' reign it might not be – the previous false dawns prove that – more a confirmation he retains trust and belief within the walls at the Theatre of Dreams and therefore with the Glazer family. For now.