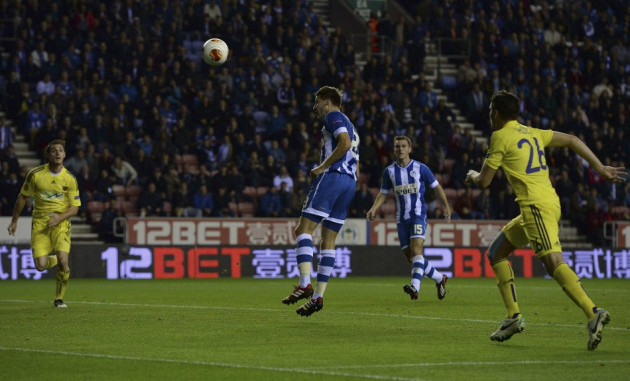 Owen Coyle has hailed Manchester United teenager Nick Powell as the Wigan Athletic manager believes the midfielder has all it takes to reach the same heights as that of Daniel Sturridge and Jack Wilshere.
David Moyes allowed the 19-year-old join the FA Cup winners on loan. Powell has already been a star for the Championship club and scored twice during their 3-1 home win against Maribor in the Europa League tie on Thursday evening. The result saw Wigan register their first win in Europe.
Sturridge and Wilshere impressed during their loan spells under Coyle with Bolton Wanderers. The 47-year-old manager claims Powell will match the likes of the England international duo.
"They are both having unbelievable careers and I truly believe you can put Nick in the same bracket. Apart from having a platform to perform here, and gaining experience, he has to be prepared to help himself, but the penny has dropped in that respect," Coyle explained.
"You can see that in him, just as you could with Jack and Daniel. Those two boys had a real desire to better themselves."
"He has been terrific since coming here. You see him bouncing into the place with a smile on his face, and you can see he really enjoys his work. There is more to come from him and I am determined to get more out of him. He does care about his football, despite looking so laid back," Wigan manager added.
United's legendary manager Sir Alex Ferguson signed Powell from League One side Crewe Alexandra in 2012. However, the teenager failed to feature regularly during the Red Dveils' title winning campaign last term.
Meanwhile, Powell has impressed for the Latics after joining Coyle at the DW Stadium on loan earlier. He has already scored three goals and registered one assist in six games played in all competitions.
Wigan manager claims Powell is already showing the abilities of becoming a future star and will be a "real gem" for United.
"Nick is going to be an outstanding player. He's improved already, but there's still so much more to come from him and Manchester United will end up with a real gem of a lad," Coyle concluded.