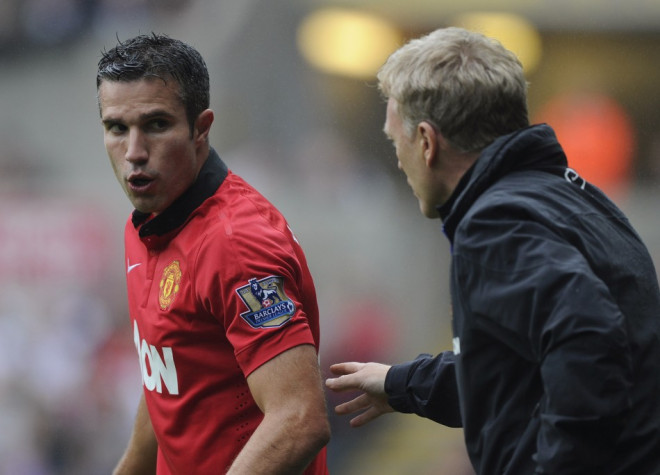 Manchester United manager David Moyes believes any club in Europe would miss the presence of Robin van Persie up front but hopes his side can rise to the occasion of Tuesday's Manchester derby.
Moyes will be without his top scorer this season for up to six weeks after van Persie was stretchered off in the 91st minute against Olympiakos, having scored a hat-trick that hauled his side into the quarter finals of the Champions League.
In the Dutchman's absence, Moyes reshuffled his attack for the visit to West Ham United on Saturday to great success, as a forward line featuring Wayne Rooney, Shinji Kagawa and Juan Mata helped seal a 2-0 win.
"There is no club in Europe who wouldn't want van Persie at centre-forward," Moyes told a press conference. "And he is a massive miss. He changed the game against Olympiakos with the goals he scored.
"Mata came here to play two or three positions. We knew that. You won't always have Wayne Rooney or van Persie fit for every game. You need a squad of players. That's why you need a squad of players and Juan has come in and played well."
United have failed to beat every team in the top nine of the table apart from Arsenal this season and have lost four of their seven encounters with teams in the top four, including a 4-1 loss to City at the Etihad Stadium.
But following their progression to the final eight of the Champions League there has been some renewed optimism around Old Trafford, and Moyes is hopeful his side can build on that and dent the title hopes of their city rivals.
"I've said many times how well the supporters have reacted to what has been a difficult season," said Moyes. "They have been great and the atmosphere has been great inside Old Trafford.
"We go out to win every game, not just the derby game, but obviously it means a lot more to supporters and it means a lot in the city, if we win.
"We want to try and perform better in the bigger games than we have done.
"It will be important for us to show the level of what we have got. I think we have got the level, that we are not as far away as many people would have us, and I have no doubt it will improve. We want to show we are still in there fighting."