Manchester United one of the very few clubs who could sign Lionel Messi from Barcelona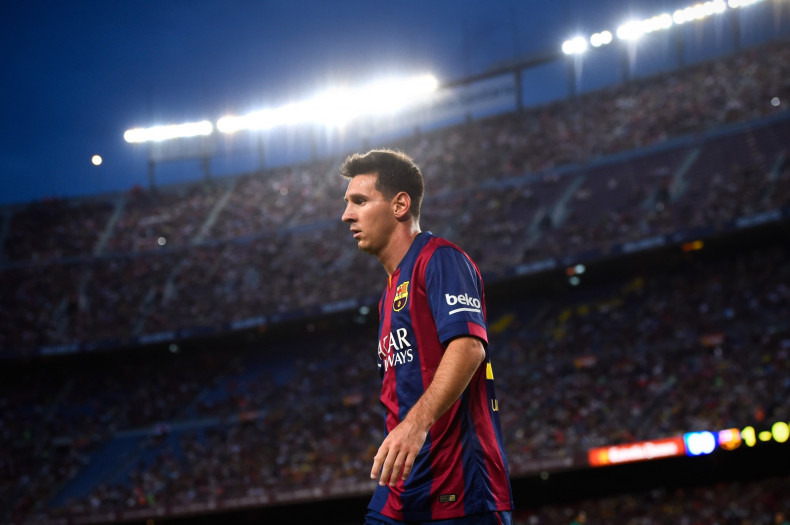 Manchester United are one of the very few clubs who could feasibly buy Lionel Messi if the Argentine was to leave Barcelona, according to sports law experts.
Early 2015 was awash with suggestions that Messi's marriage with the Catalan giants was on the rocks.
Wide-ranging reports of a falling out between Messi and head coach Luis Enrique - as confirmed by Barcelona's Jeremy Mathieu on 29 January - followed by contradictory statements over the player's future during the Ballon d'Or ceremony sparked whispers of the transfer that would rock football.
A recent study from the International Centre of Sports Studies Football Observatory valued the 27-year-old at an eye-watering €220m (£172.2m) - €160m more than the world-record fee Real Madrid paid for Gareth Bale paid in 2013.
Given Uefa's crackdown on exorbitant spending, who could afford to take on such a financial burden?
"Any club that can afford the transfer fee and wages to sign Lionel Messi will almost certainly be playing in the Champions League and therefore subject to Uefa's Financial Fair Play regulations," Karish Andrews, a partner in the sports group of law firm Lewis Silkin, told IBTimes UK.
"Essentially, FFP regulations are intended to ensure that clubs 'break even' in the medium-to-long term. An important part of these regulations deals with concerns about the effect of the super-wealthy benefactors or owners of some clubs who have, in recent years, funded massive forays into the transfer market."
Uefa moving the financial goalposts
Uefa's mission to quell perilous spending saw them allow a club owner to inject up to €45m over two years to help cover an deficit at the at the start of the 2013/14 season. That was reduced to €15m at the start of this season and will drop to just €10m in time for the 2015/16 season, with the long-term plan to eradicate deficit completely.
"All this boils down to the fact that if a club wanted to sign a player such as Lionel Messi, which would presumably break the transfer record of £86m, they would have to be very confident that the expenditure required to complete the deal could be offset by the club's income and the relatively small acceptable equity investment now allowed by an owner," Andrews continued.
With Manchester City and Paris Saint-Germain having already felt the wrath of Uefa and Jose Mourinho's Chelsea accepting Financial Fair Play as a way of life, the number of potential buyers drops considerably.
Lionel Messi is unlikely to join Cristiano Ronaldo at Real Madrid
Getty
Manchester United and Real Madrid, who recently took the top two spots in Deloitte's rich list, boast extremely diversified income streams and are not reliant on a sole financial benefactor, unlike PSG, Chelsea and Man City.
But, given Messi's deeply entrenched roots with Barcelona, a move to the Spanish capital would appear unlikely.
Andrews said: "Deloitte ranked Real Madrid as the number one club for revenue, but Barcelona are unlikely to sell to their arch rival.
With Manchester City and PSG having already received FFP sanctions, Chelsea seemingly out of the race, and Arsenal and Bayern Munich rarely going on quite such an extravagant shopping spree, one of the few feasible buyers for Messi might be Manchester Utd.
"Messi is 27 and has more than four years left on his player contract. The value of a player tends to go down after the age of 27/28 and as his player contract shortens. If he were 29 with two years left on his contract, a transfer would be much more conceivable."
Messi has since gone on record to say speculation linking him with a move away from the Nou Camp is "all lies". But we are unlikely to have heard the last of this story.