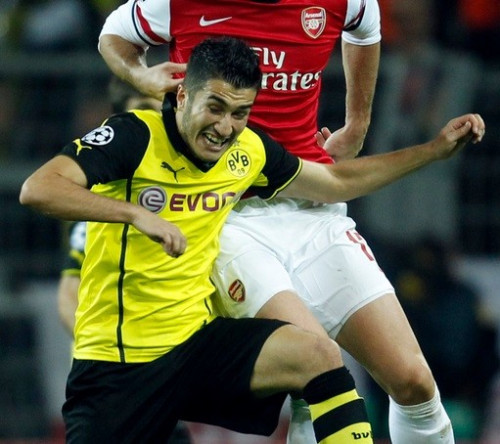 Manchester United have opened negotiations with Ilkay Gundogan's representatives and are preparing a £24m bid for the German in January, according to the Mirror.
The Red Devils are the in the market for a central midfielder and Gundogan, whose contract with the German club expires in 2015, has been earmarked by David Moyes, whose team is currently struggling in the Premier League. United are seventh in the table, nine points behind league leaders Chelsea, with Arsenal and Manchester City yet to play their weekend games.
Gundogan, who has missed the whole of this season with a back problem, would be a much needed addition to the United squad which has been found wanting in the middle of the park. The likes of Michael Carrick are entering their mid-thirties and the former Everton manager needs to bring in fresh legs to bolster his squad, which is looking a shadow of the team that won the Premier League under Sir Alex Ferguson last season.
However, it will be difficult for United to seal a deal in January, with Dortmund hopeful of tying the player to a long-term deal, having seen the likes of Mario Gotze and Robert Lewandowski travel down the road to Bayern Munich, making them considerably weaker in the Bundesliga. Dortmund have done business with United in Shinji Kagawa, who transferred to Old Trafford last season, but has failed to make a mark.
Moyes will be hoping that a similar fate does not befall Gundogan. The deal has been further complicated by his father, who recently claimed that the player yearns to play for Real Madrid, who have also been linked with a move for the 23-year-old.
"Madrid's interest in my son is considerable and they want to negotiate for him. But, at the moment, we can't do anything until Ilkay has completely recovered from his back injury. When he is playing regular football we can begin talks," his father said.