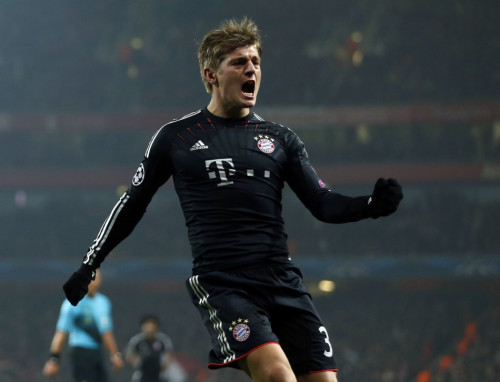 Manchester United are planning a £25m move for Bayern Munich midfielder Toni Kroos, according to the Daily Mail.
The midfielder's contract with the European Champions ends in 2015 and Moyes is planning a move for the German in January, in a region where his team is particularly weak. Borussia Moenchengladbach midfielder Patrick Herrmann is also on Moyes's list as the former Everton manager looks to go all out to strengthen his squad after successfully securing a deal for Juan Mata.
Bayern chief executive Karl-Heinz Rummenigge conceded that they are still waiting on Kroos to agree to a new contract who is currently stalling on a deal after demanding an increase in wages. Kroos has made 27 appearances this season for the Bavarians, scoring one goal and assisting five in the process. His arrival at Old Trafford will alleviate the pressue on Michael Carrick who is entering his mid thirties and needs some cover to extract the best out of him.
"It is always about money in every agreement, and talks have so far failed to lead to a new contract for Toni. We are interested in prolonging his stay with us," Rummenigge said.
United are currently seventh in the leavue, 14 points off league leaders Arsenal and six points behind Liverpool for a place in the top four. Mata's arrival will give them some much needed creativity from midfield with both Robin van Persie and Wayne Rooney on the verge of returning to full fitness. Adnan Januzaj's resurgence means that the Red Devils do not have a lack of attacking talent but need more cover in midfield and defence to keep their hopes alive.
Meanwhile, Moyes has the backing of Sir Alex Ferguson, who revealed that they will in no way give up on the former Everton man after half a season in charge.
"You don't even need to go down that road. Everyone knows what Manchester United is — it's absolutely 100 per cent. Manchester United have always been that way," Ferguson said.
"I cannot understand it. The directors must have discussed the qualities of the manager they are going to offer the job to. They must look at his CV, his character, the philosophy he has, surely? So then it maybe goes for a year and they change. And they go through the same procedure again. It seems so stupid to me," he concluded.