If anyone thought that last August's soap opera involving Real Madrid, Manchester United, David De Gea and Fifa's transfer portal had reached its conclusion, they are absolutely wrong. On the contrary, what we can expect is a battle on many fronts between these two giants in the next transfer window.
It could be the mother of all transfer battles, taking into account both clubs' disappointing seasons, their urgent need to improve their squads and Real Madrid's upcoming ban imposed by Fifa. According to Cuatro, Zinedine Zidane has drawn up a five-player wish-list and Madrid's president, Florentino Pérez, is already working on the targets identified. Three of these deals directly involve United.
The first name on the list is left-back Ricardo Rodríguez. Marcelo is performing well for Real this season, but is clearly in need of replacement. The Swiss, playing for a Wolfsburg side who are on the brink of the Champions League last eight, is the chosen one. However, German newspaper Bild reported that the Old Trafford outfit have set their sights on him as well. He is 23-years-old and will play in the summer's European Championships, so his value (£20m according to Transfermarkt) may increase if his quality performances continue . If no more teams bid for the defender, it should be a '50-50 fight' between Los Blancos and the Red Devils.
United are in dire need of adding to their midfield. Their target of Portuguese starlet Renato Sanches, 18, is also on Zidane's wishlist though, according to Cuatro. However, United have reportedly have a "gentlemen's agreement" to sign the Benfica player, according to Record Portuguese.
Cuatro believe that Real Madrid still plan to move for De Gea in the summer, despite their failure to sign him last August, when a deal to swap Keylor Navas for the Spaniard had been agreed. Following the same line of thought, Mega Channel and Spanish journalist Edu Aguirre, who is close to Pérez's board of directors, underlined that the deal is "closed".
"Actually, it was closed weeks after the fax incident," added Agirre. "Real Madrid assumes that David De Gea's signing is going to be more expensive than expected." EFE agency's journalist Roberto Morales remarked on Mega Channel that "this movement will mean the end of Keylor Navas' era at Santiago Bernabéu".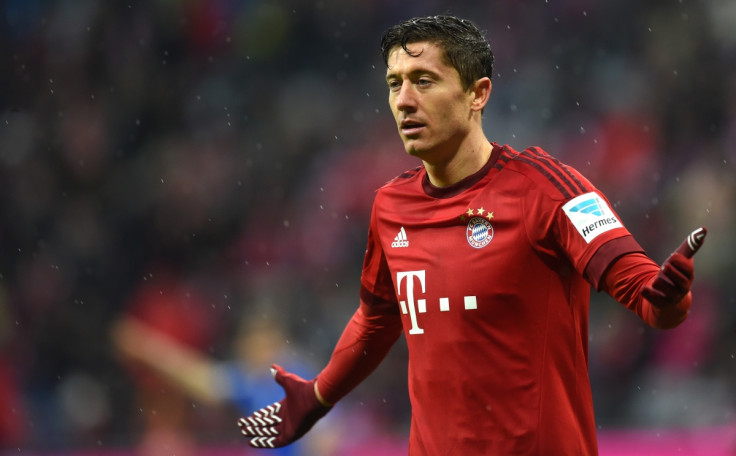 When it comes to attacking positions, Zidane has two main targets according to Cuatro Channel: Bayern Munich's Robert Lewandoski and Chelsea's Eden Hazard. The former has been constantly linked with United, but apparently has no interest in playing in England. According to Manchester Evening News, the forward said: "I do not see any difference between Bayern Munich and England's big clubs. Of course the English clubs have plenty of money to spend, but they always had a lot of money and Bayern have always been able to compete. There is no a single club in England that will catch Bayern just because they have more money all of a sudden." Will he have the same thoughts towards Real Madrid? Would the arrival of José Mourinho at Old Trafford change his mind? We will see.
Hazard completes the five-man list. Due to the imminent Fifa ban, Pérez will try to sign as many players as possible as he will not be able to buy players during the following 12 months. Alvaro Morata is the main candidate to improve the attack, however, it is not clear what would be the aim of this signing, given his departure to Juventus. Whereas La Gazzetta dello Sport reports that Los Blancos are preparing to bring the 23-year-old back and keep him in next season's squad, Diario Marca understands that Real Madrid are ready to take advantage of United and Liverpool's interest, buying him for £23m and selling him to either of the Premier League pair, for a fee of around £38.5m.
Real and United face the end of the season with the same goal: qualifying for Champions League now that their chances of winning the league have dwindled, while reaching the last eight in their respective European competitions. A similar existence will put them on collision course in the upcoming transfer window.