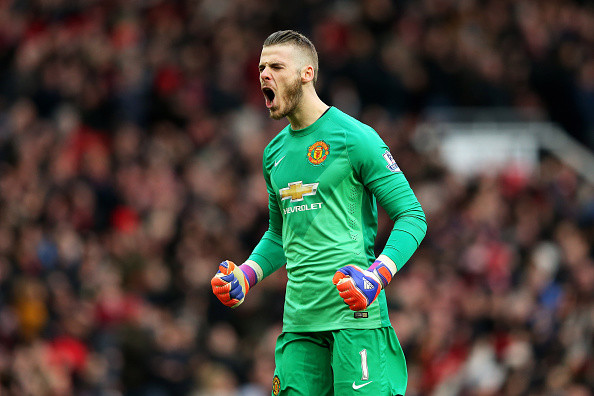 Real Madrid president Florentino Perez has denied reports the club had an agreement with David de Gea that meant compensation would be paid to the Manchester United goalkeeper if the La Liga giants failed to sign him in the summer transfer window – as happened. Perez did admit that there was an agreement reached with De Gea to sign him when his contract expired.
"Over a year ago we realised that De Gea was the best replacement for Iker [Casillas]," the club president told Cadena Ser. "It is true that we had an agreement with De Gea for him to join us when his contract expired."
The situation has seemingly changed after De Gea committed his future to Louis van Gaal's side, but reports in Spain have alleged that Los Blancos promised to pay De Gea €10m (£7.2m, $11.2m) should he remain at Old Trafford past the end of the window.
Perez, however, has denied those reports .
"Every day I've had to hear that we had to pay €10m for not signing De Gea and that's a lie", the Real Madrid president said, as quoted by AS. "They are the same ones who have been saying since I arrived that I would turn Real Madrid into a public limited company. 15 years later they are still saying it and they accuse me of corrupting assemblies."
Perez also denied that he forced the departure of Casillas in order to make space for De Gea.
"It's is not true that I got rid of Casillas, but I did make a mistake. He had been going through some bad moments for two years through a series of unpleasant occurrences and it is not acceptable to attack anybody, because it is the same as attacking the club itself.
The Spanish national goalie moved to Porto during the summer after being out of favour at the club since Jose Mourinho's decision to bench him during his time in La Liga. But Perez refused to blame the current Chelsea manager for the scrutiny Casillas endured in his final years at the club.
"I do not put the blame on Mourinho," he said. "The following season [under Carlo Ancelotti] there was a controversy because Diego López was the starting keeper and in order to fix that we brought in Keylor Navas and restored Casillas. There were people who were pressurising him and he had a bad time of it for two years. When the offer from Porto came in he asked us to let him leave, we understood that he had that right, as did Raúl, to administrate his departure from the club in the way that suited him best. We did everything possible to help him."