Manchester United Rejected Chance to Sign Barcelona's Alex Song to Focus Efforts on Juan Mata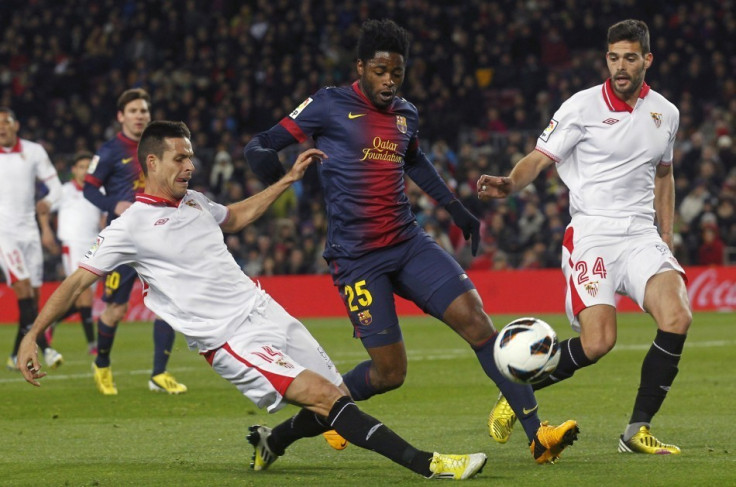 Manchester United were offered the chance to sign Barcelona midfielder Alex Song earlier this month but chose not to pursue it in order to focus their efforts on bringing Juan Mata to the club.
The Premier League champions are on the verge of breaking their transfer record to sign the Chelsea playmaker for £37m with the latest reports suggesting the club will formally announce his arrival Friday morning.
After United suffered a 3-1 defeat at the hands of Chelsea last Sunday, the Daily Telegraph suggest senior officials at the club chose not to pursue other attainable targets such as the former Arsenal midfielder and instead concentrate solely negotiating a move to bring the Spain international to Old Trafford.
Song has been linked with a return to the Premier League – both to United and his former club – on a number of occasions over the past six months. Following his £15m move to the Cap Nou in 2012 the Cameroon international made 20 league appearances in his first season, many of which were as an auxiliary centre half as Barcelona's defensive options remained short.
The 26-year-old has had similar struggles breaking into Tato Martino's starting XI this season, starting just seven La Liga games this season and making a further three from the substitute's bench.
His dwindling role at the Catalan giants has frequently sparked speculation suggesting a move away beckons during the January transfer window, but it would appear United are not interested in pursuing such a move.
The Telegraph also suggest Moyes' side were offered Inter midfielder Fredy Guarin earlier this week after his proposed move to Juventus collapsed. The Colombian international, who entered talks with Chelsea at the beginning of the month, was set to move to the Bianconeri in a swap deal that would have seen Mirko Vucinic move in the opposite direction.
The proposed move collapsed however despite both players keen on the move, leaving Guarin's immediate future uncertain.
© Copyright IBTimes 2023. All rights reserved.