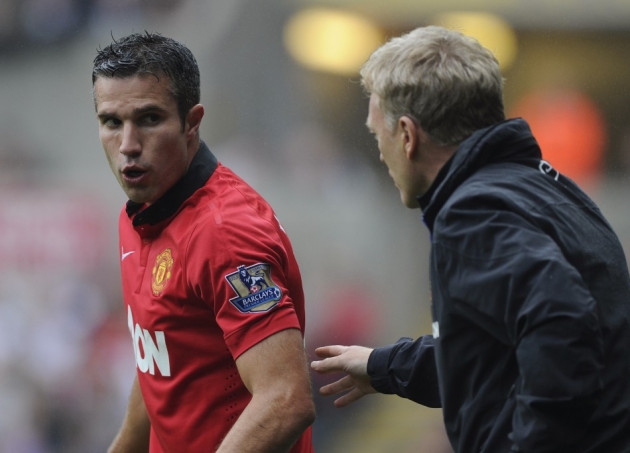 Manchester United manager David Moyes has confirmed that Robin van Persie is set to miss a month of action after suffering a thigh injury.
The Holland international was left on the bench for Tuesday's evening's final Champions League group game against Shakhtar Donetsk with the United boss keen to rest the striker after his recent struggles with injury.
But with his side struggling to break down the Ukrainian champions Moyes introduced the Dutchman, whose corner kick lead to Phil Jones winner. The striker's introduction has come at a price, however.
"Robin van Persie is out as well for a month," Moyes told reporters. "He picked up a thigh strain in taking a corner kick which led to the goal.
"It's unfortunate because I think if you look at our record with Wayne Rooney and Robin in the team, it is actually very good and we have not had them for quite a period recently."
The former Arsenal captain had scored seven Premier League goals in 11 appearances, his last coming in the 1-0 win against his former club in November. But toe and groin injuries sustained on international duty saw him miss a month of action.
The 30-year-old was brought back into the first team in the absence of Wayne Rooney in United's 1-0 defeat to Newcastle last weekend, but struggled to have a significant influence over the game.
Earlier this week Van Persie talked up the importance of his partnership with Rooney, expressing his eagerness to reunite alongside the England international.
"What I enjoy most is the interaction together, that we both want to play together," Van said. "We both realise that we are better off playing together, because we are stronger when we are playing together, as a partnership. That's the main thing in any partnership.
"You have to have a certain partnership when you're playing with the No. 9 and No. 10, the main striker and the second striker. A left-back and a left winger need to have a partnership; the midfielders need to have a partnership; the two centre-backs, together with both full-backs, are the same.
"So you all have small partnerships in a big partnership, and I think it's very important that you want to work together and you try to feed the ball in to each other, and make each other stronger. You are always stronger, in any sport, in life, when you are doing stuff together. So that makes me really happy."