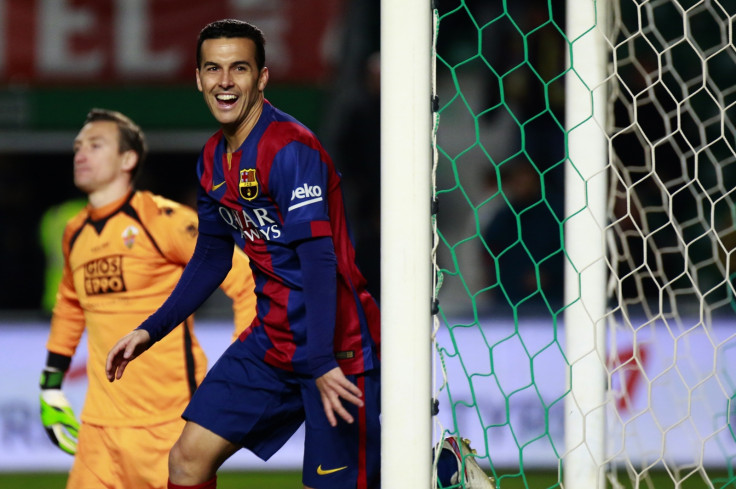 Manchester United are set to activate Pedro Rodriguez's £22m ($34m) release clause with Barcelona and bring him to Old Trafford to replace Angel di Maria, according to the Mirror.
The winger is reviewing his future at Nou Camp following the arrival of Luis Suarez last season and Arda Turan this summer and believes he will not be given much game time, amid the competition on offer.
Pedro will slot into the left of Louis van Gaal's midfield and offer width from the wings, amid competition from Ashley Young, who had a breakthrough campaign last season. Ed Woodward has reportedly travelled back to England on the eve of United's game against San Jose Earthquakes with Pedro's agent and is currently completing the paperwork to seal the deal.
The transfer will see United's transfer spend for the season at more than £100m for the second year in succession as their manager looks to rebuild United's legacy following the departure of Sir Alex Ferguson.
Pedro has been a valuable servant for the Catalans, having played 318 games for Barcelona, in which he scored 98 goals. However, his appearances have gone down over the last few seasons and at 27, he wants another challenge where he will be given the opportunity to showcase his talent on a regular basis.
Meanwhile, the Dutchman had recently revealed in an interview that United are still in the market for a marquee signing and the departure of Di Maria, as reported by the Guardian, has opened up room for a player who can add that star value to the squad like Eden Hazard does for Chelsea and Sergio Aguero for Manchester City.
"Chelsea have Eden Hazard, he can always make goals," said Van Gaal, as quoted by the Mirror.
"Manchester City have Aguero, it's the same type. Barcelona have Lionel Messi, Neymar and Luis Suarez. We, as Manchester United, have to compete with these clubs. So we have to look also for these kind of players."