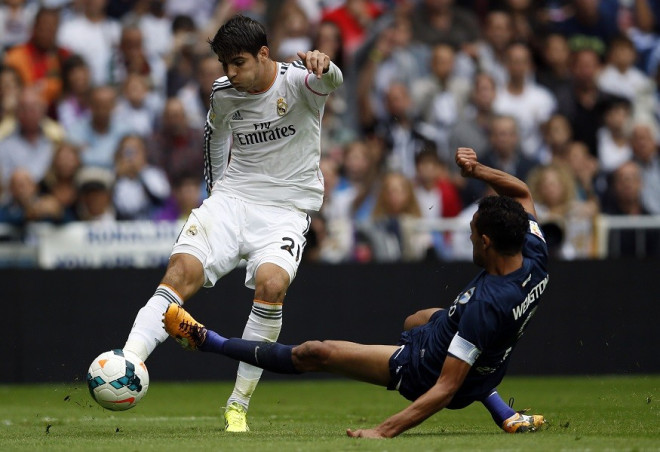 Manchester United have joined Arsenal in the race for Real Madrid striker Alvaro Morata, according to ESPN.
Arsenal were trying for a loan deal for the striker in January but the Spanish giants refused to allow the player to leave.
However, now they have reportedly agreed to a permanent transfer in the summer. Madrid are prepared to sell the player for a fee in the range of £25m, something which the Gunners are yet to agree on.
The Red Devils have therefore seized upon the opportunity to make a move for the player and David Moyes is willing to bring the pacy forward to Old Trafford to cover for Javier Hernandez and Robin van Persie, who have both being linked with a move out of the club.
Morata has been frustrated by the lack of game time being offered to him and is unlikely to extend his contract which expires in 2015.
Moyes is planning a series of changes in the summer and is reworking his forward line, which has been underwhelming this season, is high on the priority list.
Meanwhile, the Gunners need a backup for Olivier Giroud, who has been overworked and needs a quality deputy to cover for him in case of an injury or to give him some rest.
It has been a frustrating year for the Spaniard, scoring only three goals while making one start thus far in the league in 13 appearances.
A move to the Premier League sounds promising, given that he will have more opportunities to prove his worth than amid a series of superstars in Madrid.
Meanwhile, Wayne Rooney has insisted that his side will fight for the shirt in the remaining few games left in the season after what has been a disappointing campaign.
The Red Devils defeated West Bromwich Albion 3-0 in their last game and will now fact arch rivals Liverpool at Old Trafford.
"We were hurt after the Olympiakos game, and we needed to go out and show everyone that we are a good team. We'll fight for the shirt, and we'll fight for a place in the team, and I think that showed," Rooney said.
"We played with a great energy, we were exciting and we always looked a threat, so I think we deserved the three-goal win. And it could have been more," he added.