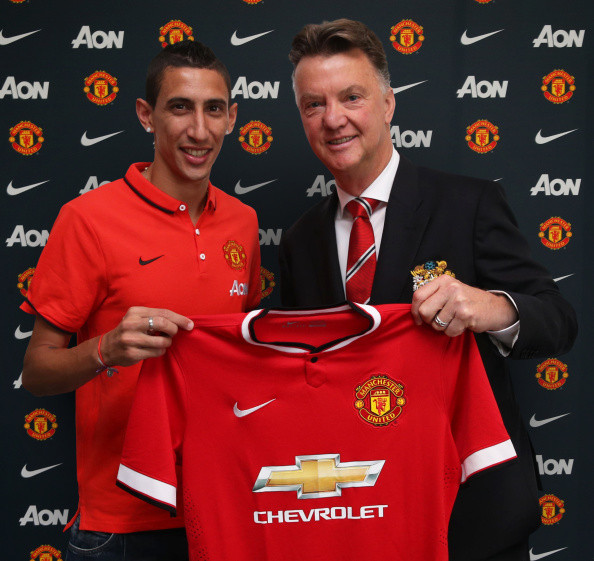 Manchester United's new signing Angel Di Maria has revealed he wanted to leave Real Madrid last season but eventually stayed until this summer because of his close relationship with Cristiano Ronaldo.
Louis van Gaal's side completed the signing of the Argentinian midfielder this summer after agreeing to pay a record £60m to Real Madrid for his services.
Even though Di Maria was a crucial player in Real Madrid's success last season – which culminated in the Spanish giants winning both the Champions League and the Copa del Rey- he was constantly linked with a move away from the club during the summer transfer window.
Nevertheless, Di Maria believes the Madrilenos didn't value him enough and in a recent farewell letter to the club hinted at a poor relationship with club president Florentino Perez.
"Many things were said and many lies circulated. They always wanted to pin the idea of leaving the club on me, but that's not how it was. Unfortunately, my football isn't to someone's taste. The only thing I asked for was a fair deal," Di Maria wrote then.
However Di Maria has also revealed that Cristiano Ronaldo played a crucial role in keeping him at the club when Monaco and Paris Saint Germain came calling during the January transfer window.
"The truth is that I have a great relationship with Cristiano Ronaldo and I stayed at Madrid last season thanks to him," the Argentine was quoted as saying by AS.
"I left Madrid in the best possible way, by winning La Decima. In my farewell letter, I said exactly how I felt from the first day at the Bernabeu."
Meanwhile, Di Maria has thanked United for breaking the British transfer record to sign him.
"I am grateful to Manchester United for meeting Madrid's demands. But I don't feel any extra pressure because I'm the most expensive player in the Premier League.
"The Premier League is more physical and about strength, whereas Spain was more about football. It's a very strong league, though. Van Gaal has told me to try to adapt as quickly as possible."