Manchester United number one David de Gea is closer to move to Real Madrid due to his bad relationship with manager Louis van Gaal, according to reports in Spain.
Southampton manager Ronald Koeman recently claimed his compatriot instils fear in his players due to his management technique
"When you have van Gaal in charge, it is a fact that there is fear in his team. The players have a fear for Mister van Gaal. That is not always good".
Now Spanish newspaper AS claim that De Gea is considering a move to the Santiago Bernabeu because of van Gaal's character.
The reports assures that the star and the manager have not spoken to each other for months and that De Gea is upset with van Gaal because the manager seizes every opportunity to take credit out of his impressive performances during press conferences, saying that the Spaniard is eventually just doing what a goalkeeper has to do.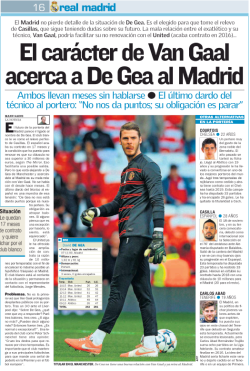 AS insist Real Madrid have earmarked De Gea as a top priority to replace Iker Casillas and the club are taking advantage of his good relationship with the keepers' agent, Joger Mendes, to monitor his situation at Old Trafford, as his contract at the Premier League giants is due to expire in summer 2016.
Meanwhile, the reports claims that Iker Casillas will decide whether to stay at Real Madrid or to leave the club at the end of the season – with the MLS as his most probable destination.
The Spanish legend recently claimed he wanted to hang his boots at the Santiago Bernabeu but the whistles from his own fans during the recent game against Deportivo de La Coruna may have changed his mind.
"No-one likes being whistled. You have to get on with things and not let it affect you", Casillas has admitted.
So should Casillas opt to put an end to his career at Los Blancos the Champions League winners expect to accelerate the press to sign de Gea this summer – rather than waiting until the next year until his contract at Old Trafford expires.
However, while AS claims a de Gea move to Real Madrid is closer than ever, according to the Mirror, Carlo Ancelotti has cooled his interest in the goalkeeper.
Nevertheless just some days ago the English newspaper claimed that de Gea was only willing to sign a new contract if the Premier League giants accepted to reduce his release clause to around £25m – to favour a future move away from Old Trafford.