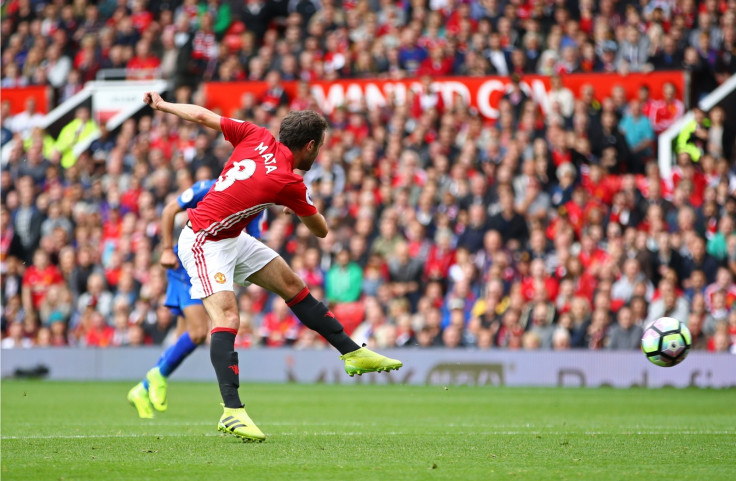 Juan Mata has assured that it was completely false he considered leaving Manchester United following the summer arrival of Jose Mourinho to Old Trafford. Yet, the Spaniard said that his relationship with the Portuguese boss has always been "good" despite the Portuguese boss frozen him out during their time together at Chelsea.
Mourinho sold Mata to United in January 2014 despite the Spaniard maestro had been named Chelsea's player of the season in 2011-12 and 2012-13, helping the Blues to consecutive Champions League and Europa League triumphs under Roberto Di Matteo and Rafa Benitez.
Reports earlier in the summer suggest the former Chelsea boss will do it again after he took over Louis van Gaal at United. The arrival of Henrikh Mkhitaryan increased doubts further, as did Mata being brought on and substituted within the space of 30 minutes during the Community Shield victory over Leicester City.
Everton, Paris Saint Germain or Juventus were linked with his services amid reports claiming Mourinho considered sending Mata with the reserves as he did Bastian Schweinsteiger.
The reality has been different though. Mata has become a key player for Mourinho during the opening games of the campaign and the boss himself said earlier this week that the Spaniard has found his "natural habitat" at Old Trafford.
The former Chelsea star decided to remain quiet about all these issues during the months of uncertainty but has now decided to break his silence to explain that he never considered leaving United.
"It has been a long time since the last time I spoke [to the media]. Too many things were said and quite a few were lies. I chose to be quiet and calm and decided not to talk so far. I had confidence that as soon as the season started, everything would go well," Mata said to Cadena Cope. "I'm good now. There were many rumours and people fabricated many lies. Every morning there was a different story about me, my future, and my relationship with the manager."
"I was bothered by some stories that said that United were going to take off my number (8) to give it to Zlatan and the boss was planning to send me to the reserve team. Every morning they said that I was going to go to a different team. But I was calm and my head was only focused in doing a good season at United. It was not necessary to speak to Mourinho because I knew all the stories were not true. Some family and friends called me to ask but it was all a lie. I thought it was best to be away from those rumours and chose not to speak. I knew (journalist) were going to ask me about it and I did not want to give importance to that but my life remained the same.
Yet, the Spaniard said that the truth has come now after he has already started six games this season, being only unused during the defeat to Manchester City.
"I'm playing almost every game, and in different positions. The team started well, then we had a bad week but we have react in the last games. I am happy. I want to win more titles with United. Last year we won the FA Cup and now I really want to win the Premier League because I have never won it."
Earlier this week Mourinho hailed the importance of Mata at United this season by saying: "My project at Chelsea he was a good player, my project at Manchester United is a very good player."
Asked about those quotes Mata replied: "Our relationship has not changed at all. It has never been bad."
"I believe that he wanted to express that each club have different squads with different characteristics. At United we have a squad to play another way than the one we had at Chelsea. We played very associatively, very offensive here and I feel comfortable. I am enjoying in the pitch. .