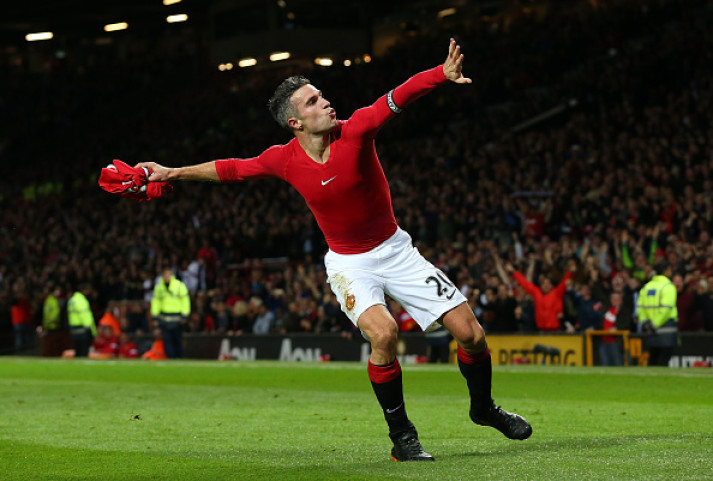 Manchester United striker Robin van Persie has picked Radamel Falcao in his ideal Old Trafford five-a-side team even though the Colombian international has struggled to convince manager Louis van Gaal he deserves a place in his starting line-up.
The former Atletico Madrid striker arrived from Monaco on a season-long loan deal on deadline day in the summer expecting to become a crucial asset for Van Gaal in the manager's attempt to resurrect the Premier League giants to their title-challenging status.
But Falcao has struggled to make the impact expected due to an injury suffered at the beginning of the campaign, making only three starting appearances.
Even though the Colombian star recently suggested he is fully fit to play again, Van Gaal has opted to use youngster James Wilson ahead of him up front. Falcao has only made brief cameos against Hull City, Stoke City and Liverpool.
On 17 December, Falcao admitted should the situation not change, he may have to consider turning down the chance of signing a permanent deal at Old Trafford at the end of the season.
"From my point of view, yes, I want to stay but obviously I have to analyse the situation. I'll see if I play more and see what decision the board takes. But from my point of view, I really want to stay," he said.
But Van Persie appears to have more faith in Falcao, picking the Colombian star ahead of Angel Di Maria and Juan Mata.
"That's a good question because you have to make a decision if you want to go with attackers or have a combination and you might need a goalkeeper! [Laughs]," Van Persie said when asked by Manchester United's official website.
"I will go for David [De Gea] in goal. I need one defender so I will go with Michael Carrick because he can play in both positions [defence and midfield], then I'll go for strikers so Wayne [Rooney]. I'm involved as well? I'm not on the bench?! So me, David, Michael, Wayne and... this is very hard because you have Juan [Mata], you have [Angel] Di Maria and you have Falcao... I'll go for Falcao."