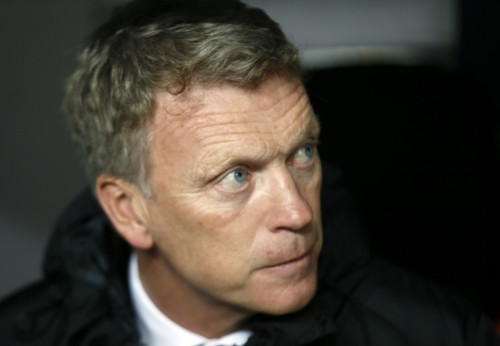 Manchester United manager David Moyes refused to rule out the possibility of his side finishing in the top four of the Premier this season following a goalless draw with Arsenal.
Arsene Wenger's side missed the chance to reclaim their spot at the summit of the Premier League after playing out a stalemate with the current champions who remain 15 points off league leaders Chelsea.
More pertinently for United, Liverpool's last minute win over Fulham now leaves them 11 points behind Brendan Rodgers' side and a coveted fourth place finish, with Tottenham also stretching the gap ahead of them following their 4-0 win over Newcastle United.
But despite the widening deficit between them and fourth, Moyes insists his side are still up for the challenge of securing Champions League football next season.
"All I can do - and I keep saying it - is we will try and win the next game and pick it up," said Moyes, Sky Sports report.
"If there is one club in history who have been great at winning games in the second half of the season and putting pressure on the teams above it is Manchester United. We will continue to try and do that and make it work.
"We can only do our job the best we can. We want to play better. We cannot bother about other teams. We can only put pressure on by winning our games."
"I believe the desire is still there in the squad.
"You saw how good Vida (Nemanja Vidic) was and how good Rio (Ferdinand) was when he came on. They are a great group of players and a very experienced group of players. They have been winners all of them.
"They all have medals and when you have won you want to win more. They are all still hungry and determined to be successful."
On an evening where clear cut chances were scarce, it was the two goalkeepers who won acclaim with both Wojciech Szczesny and David De Gea pulling off impressive saves to keep their sides in the contest in the last 15 minutes.
Robin van Persie was gifted a chance in opening minute to score in his fourth successive game against his former club but passed up the opportunity. It was just one of a succession of chances that Moyes believes the Dutchman would have usually converted to give his side all three points.
"I thought we did a lot of good things in the game. We had good shape and were nice and compact. We had some good moments in the game," Moyes continued.
"We had a great chance in the opening minute. I thought whoever would have got the first goal it would have been important and we had a great opportunity to get that.
"It (Van Persie's chance) was a great move, a great ball from Wayne Rooney and a great header. The goalie made a great save and near enough pulls it out of the back of the net.
"On another night Robin might have had a hat-trick. He had three good chances."