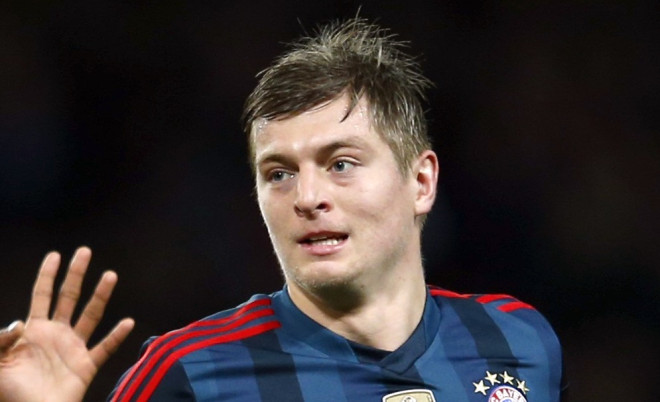 Manchester United's hopes of luring Toni Kroos away from the Allianz Arena have suffered a huge set-back after Bayern Munich chairman Karl-Heinz Rummenigge insisted the midfielder will remain at the club next season.
The 24-year-old midfielder has entered the final 15 months of his contract and after talks over a new deal stalled earlier in the year Bayern will be presented with their last chance to recoup a fee should he choose to leave this summer.
However, Rummenigge has being quoted by The Guardian insisting that Bayern will not listen to offers for him, saying: "Toni Kroos is sure to play in a Bayern Munich shirt next year as well."
After signing playmaker Juan Mata during the January transfer window, David Moyes is planning a huge overhaul of his squad in the summer and has earmarked the signing of a creative midfielder as his primary summer target.
According to reports, Kroos is leading a short-list of candidates that also includes former United star Paul Pogba, Borussia Dortmund's Ilkay Gundogan and La Liga sensation Koke.
Manchester United host Bayern in the first leg of their Champions League quarter-final tie on Tuesday night, giving Moyes the perfect opportunity to take another look at the midfielder and sound out the possilbity of a summer deal ahead of the summer transfer window.
But Rummenigge's recent comments suggest the United boss will have to look elsewhere to find a midfielder, or persuade the player to force an exit himself to give them any chance of bringing the player to Old Trafford.
However, the German star has already rejected two offers to extend his current contract with Bayern and he recently admitted that he is keen on moving to England.
"I have not decided my future yet. But it is no secret that the Premier League is a possibility for me," Kroos said.
To further heighten United's interest, he also hinted that he will consider a move to United even if the Premier League holders fail to secure a spot in the top four, an increasingly likely prospect for the club.
"I will consider all offers, even from those teams that do not participate in the next Champions League."