Manchester United put in their best performance of their America tour so far in a penalty shootout victory over Inter Milan, according to manager Louis van Gaal.
United converted all five of their penalties after they and Inter, who missed two, fought out a drab 0-0 encounter in front of 61,000 fans in Washington.
Even though chances were few and far between, causing only ripples of excitement at the FedEx Field, van Gaal believes United's performance was the best of the tour so far.
The contest, which saw United come up against former Old Trafford linchpin Nemanja Vidic, also provided a rare opportunity for Wilfried Zaha to impress his new manager as well as a run out for Javier Hernandez.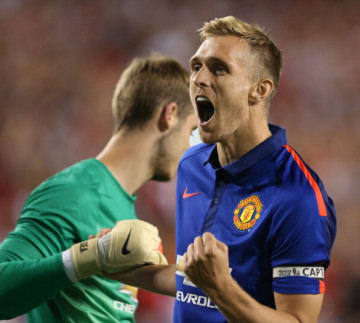 But in his post-match press conference, van Gaal highlighted the team's overall performance as the lasting positive from a largely stale affair.
"I am very pleased," the 62-year-old enthused. "I think we played by far the best match of our sequence of three.
"They only had one shot on our goal and that was given by the referee [a free-kick], but I think we also created six or seven chances, so then it is seven against one.
"I was very pleased with our ball possession; it was much better than the other matches. And I think also the positions were better covered."
United started with Phil Jones at the heart of their defence, flanked by Chris Smalling and Johnny Evans.
Ashley Young deputised as a left wing-back in the absence of the 'unfit' Luke Shaw, while Antonio Valencia resumed on the right-hand side.
A Jones header forced a save from Samir Handanovic and Wayne Rooney attempted a repeat of his drifting effort against Roma but the game only sprang to life in the final quarter when Shinji Kagawa, Zaha and Nani probed forward.
Nani, who was brought on at half-time and is a transfer target for Arsenal as well as Inter and Juventus, lasted just 30 minutes before being substituted for Hernandez, another player thought to be heading out of Old Trafford.
Despite the clean sheet, van Gaal admitted United were still in the hunt for new defenders.
"The first match was zero goals, the second match was a fantastic goal by Pjanic, an error from the goalkeeper and a penalty given by the referee, and today again zero goals," the manager added.
"So we are doing well but we are looking for defenders, because a lot of defenders have gone. We have to replace them but I also like Michael Keane and Tyler Blackett."
He also gave no assurances about Zaha's future at the club, explaining the England U-21 forward faced stiff competition from United's strikers.