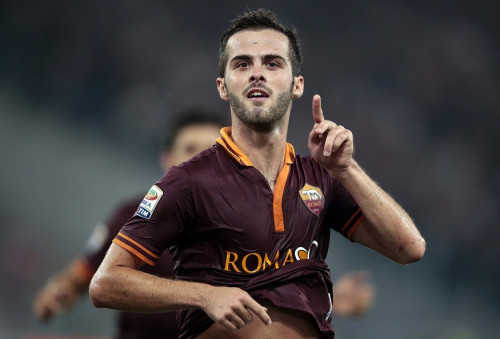 Roma manager Rudi Garcia has told Manchester United to forget about signing Miralem Pjanic this month or in the summer.
United's search for midfield additions has intensified this January but a number of their key targets have shown little interest in a move to Old Trafford following the club's failings during the summer transfer window.
David Moyes was seemingly given hope when 23-year-old Pjanic admitted he was flattered to be linked with a move to the Premier League champions, but the Roma boss has closed the door on a possible switch after the midfielder's virtuoso performance against Serie A champions Juventus in the Coppa Italia.
"I can say Miralem is an essential player for us and will be next year too. He will stay at Roma," Garcia said following the 1-0 win over Juventus, via the club's official Twitter account.
"His pass was excellent for Kevin Strootman and above all Gervinho's run to the near post.
"I had many options on the bench tonight and we expected the teams to battle for an hour. We had prepared for Miralem to be decisive when he came on.
"We played well tonight, kept possession in the first half and it was also a tactical victory, as we decided to wait a little more after the break to open up spaces. That's how we got the goal."
United's efforts to solve their well-documented problems in midfield have been frustrated thus far, with summer target Ander Herrera and Atletico Madrid starlet Koke both keen to remain in Spain.
Moyes has warned United fans awaiting a flurry of transfer activity that most of the club's business will have to wait until the summer, given the difficulty in convincing targets to cut ties with their club half way through the season.
"We know the type of players we want to bring into the club," Moyes said earlier this month. "A lot are not available, if we can get them we will try to do that but it is difficult.
"The club has always said it is long term here. We have an idea of the players we would like to bring in. We would like them now obviously, but it is much more likely it won't be."