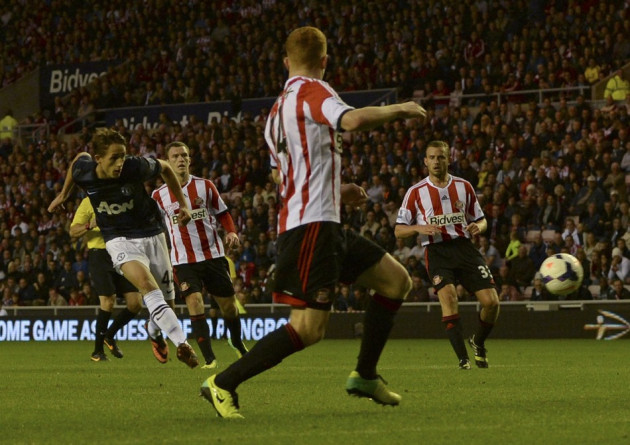 Manchester United are reportedly preparing to offer Adnan Januzaj with a new four-year deal worth around £50,000 a week, according to the Mirror.
The 18-year-old has less than a year left on his contract and is yet to agree a new deal to extend his at Old Trafford. Januzaj's two brilliant goals against Sunderland in their last league fixture saw the Premier League champions register a 2-1 win over the Black Cats after conceding an early goal.
United have seen Paul Pogba leave the club on a free transfer after he joined Juventus in the previous summer. The Frenchman was believed to be one of the brightest prospects, but lack of regular first team action forced him to make a move away from Old Trafford.
Pogba has established as a key figure in the Serie A outfit's midfielder, where he went on to win the domestic title with the Turin club. The Mirror claims that David Moyes is keen on not repeating United's previous mistakes.
Januzaj's agent Dirk de Vriese earlier revealed the talks over a new deal stalled after United's former manager Sir Alex Ferguson stepped down from his post at the end of the last season. The former Everton boss is aware of the growing interest from Manchester City for the young talent's services, but remains confident that the teenager would sign a long-term deal at Old Trafford.
The Telegraph reports that Moyes is confident of giving the youngster a chance to shine at the European stage as United look to register Januzaj in their Champions League squad on Monday.
Meanwhile, Moyes was in full praise for Januzaj's heroics during their 2-1 win over Sunderland, which saved United from suffering their third straight defeat in the league.
"This is a boy of 18 years old, this isn't a boy who is even 20 or 21. This is a boy who, when I came in, everybody told me about him," Moyes explained.
"We took him on tour, he was terrific on tour, so I knew we had a real talent. And I have got to say, he has got better since he has come back from the tour."
"I have watched him every training session and really, I would have put him in the team three or four weeks ago, but just for different reasons, the moment wasn't quite right," he added.