Manchester United and Arsenal face a summer battle for the signature of Spain international Cesc Fabregas. The 26-year-old former Gunner left the Premier League to rejoin hometown club Barcelona in 2011 but has not quite established himself in the Nou Camp side's first team.
His exclusion from high-profile games in favour of compatriots Andres Iniesta and Xavi Hernandez has led to speculation he could be open to returning to the English top flight, as he seeks to make himself an indispensable part of the Spanish national team before the 2014 FIFA World Cup in Brazil.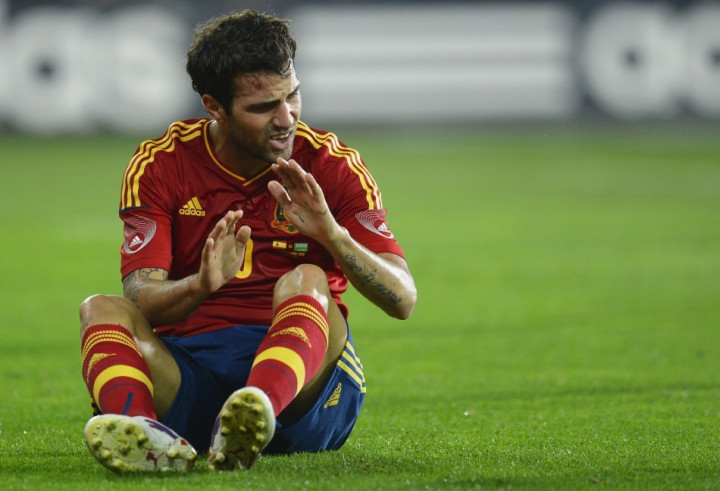 Amid reports strongly linking Fabregas with both United and Arsenal, Sky Sports' Spanish football expert, Guillem Balague, claimed to have inside information that the Catalans would not transfer the midfielder this summer.
However, the Metro believes Fabregas has been given the weekend to decide on his future and, if he decides to move on, the Spanish champions are expected to listen to offers.
David Moyes, the incoming boss at Old Trafford, has made strengthening the Premier League champions' midfield a priority. The 50-year-old also has his eye on Fabregas' team-mate, Thiago Alcantara.
However, there is a first option clause in the agreement that took Fabregas to Spain. This means that if United make a formal approach, Arsenal can submit a must-accept offer of up to £25m. Arsene Wenger's admiration for his former captain remains as strong as ever.
"I'm not convinced Fabregas won't come back here one day. He won't return in the next two or three years but, after that, maybe. He's an Arsenal man. He loves Arsenal. He watches every Arsenal game," the Frenchman said in January.
For the time being, Fabregas' future remains uncertain. The Spaniard has been quoted at hinting that he does have an idea of where he will play next season but refused to reveal details.
Fabregas' Replacement
Meanwhile, Spanish newspaper Sport, as quoted by Italian website Tutto Mercato Web, believes Barcelona have settled on Argentine youngster Ezequiel Cirigliano as a replacement. They may face some competition though, with Goal.com earlier reporting that Manchester City have an interest in the 20-year-old.
Carlos Puyol on His Future
Finally, Barcelona and Spain legend Carles Puyol says he wants to keep playing professional football. The Catalans' captain is 35 years old but remains an indispensable part of the first team, when fit. Unfortunately, he doesn't stay fit for very long.
"My future is at Barça. I have three years remaining on my contract and I want to play competitively until I'm 40, I'm going to fight for it," Puyol told the club's website.