Arsenal could profit from Manchester United's bid to bring Cesc Fabregas back to the Premier League. The Mail Online believes the Gunners inserted a 50% sell-on clause in the Spanish international's transfer agreement in 2011.
Fabregas left north London for Barcelona in a £35m deal. This means any approach for the midfielder will probably see the Catalans ask for an inflated fee; they will lose half of that to the Gunners but will also want to recoup their initial outlay. And given Fabregas is only 26 years-old with three years left on his original contract, the Catalans could ask for a fee in excess of £70m for his services.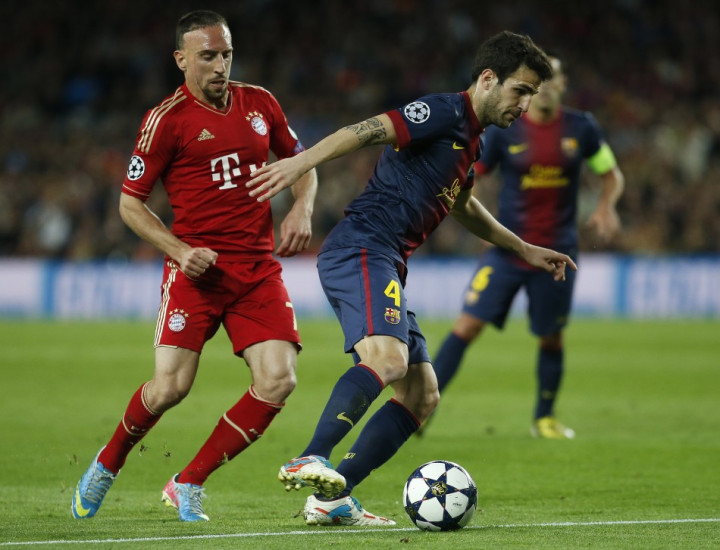 And as far as incoming United boss David Moyes' plans are concerned, the sell-on clause is only part of the problem. It is believed there is a first refusal clause in Fabregas' transfer agreement, which obliges Barcelona to inform Arsene Wenger of a formal offer for his former captain. In that event, Arsenal can then make a bid (believed to be between £20m and £25m) which the Catalans must accept.
The question now is - will Wenger move for Fabregas if given the option? The Gunners have Jack Wilshere, Mikel Arteta, Santi Cazorla and Tomas Rosicky in the playmaker role and the return of Fabregas, while it could be an emotional boost, will hardly help the squad's balance.
The other question is - will Fabregas actually move? The former Gunner has made 29 starts in La Liga this term, scoring 10 goals and creating 11 more. This is by no means either a poor return nor sign of a player left on the fringe of the first team. The midfielder's concern is not game time so much as being benched for critical fixtures.
All the speculation could well be for nothing though, with Sky Sports' Spanish football expert Guillem Balague claiming he has concrete information on Fabregas' future.
"He is surprised by the rumours. The club has definitely told me they have no intention of selling him. His buyout clause, in case anybody is interested, is €200m, which is a little bit expensive. In any case it is a deterrent for people to come and try to poach him away," Balague told Sky Sports.
"If anything was going to happen it would be in the future, maybe next year, who knows, but [he has] decided he will stay at Barcelona for at least one more season," he added.