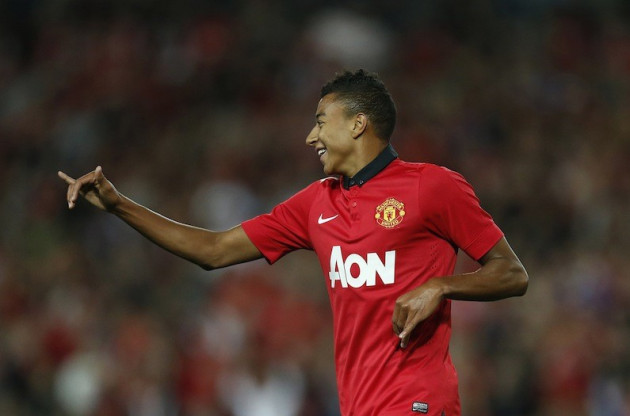 Birmingham manager Lee Clark says he is hopeful of keeping Jesse Lingard at the club beyond his initial one-month loan as the young attacking midfielder will be guaranteed regular action.
Manchester United allowed Lingard to join Birmingham in order to get game time and prove himself to David Moyes with the youngster hoping to eventually break into the first team as a result of his performances with the Championship side.
United are yet to give the 20 year old a chance to show his skills for the senior side but in his first appearance for Birmingham the playmaker scored all four goals in the club's 4-1 thrashing of Sheffield Wednesday.
His impact for the side is obvious already and Clark has revealed he sent a text to Moyes over the England Under 21 man's performance and the manager was delighted to hear about it.
Manchester Evening News reports Clark saying: "I sent a text to David Moyes after the game Saturday.
"I see by the television footage that he was at the Hawthorns. He just replied saying he was delighted for the lad."
Clark is now hopeful that United will allow the youngster to stay on board a while longer. explaining: "What we have got to try and do is continue to win games and for Jesse to enjoy his football to make the stay longer.
"That's what we aim to do because, you know, we certainly don't want him here just for the short term. We want him here for as long as possible.
"The month will be up quite quickly.
"And, more importantly, Manchester United need to see that he is developing as a player and is enjoying the environment where he is playing."
With Lingard continuing to develop into an attacking midfielder full of potential he could indeed be provide more depth for Moyes as he struggles with his midfield options. Signing Marouane Fellaini was supposed to give the middle of the park a lift but United's 4-1 loss at the hands of Manchester City at the weekend showed there is much work to be done in this area over the season if the side hope to challenge for trophies.
Watch Lingard in action for Burmingham as their loan star scored four goals in his first match for the side: