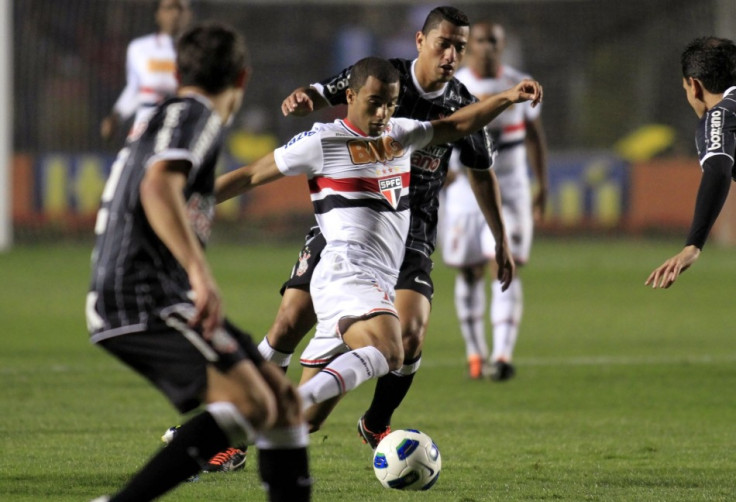 Brazil midfielder Lucas Moura is reportedly edging closer to a £30mn move to Manchester United, amid competition from Inter Milan and Real Madrid.
A delegation from Old Trafford will arrive in Brazil on Tuesday to hold talks with the Sao Paulo star's representatives, as the Red Devils attempt to reach an agreement before the player joins up with Brazil teammates for London 2012, reports the Daily Mail.
Chelsea have had a £32mn offer turned down for the 19-year-old earlier in the summer and Moura's father had a meeting with Inter Milan about a possible transfer last week, according to ESPN, with Real Madrid also linked to the attacking midfielder after holding talks with his agents earlier in the summer. However, the player remains unsure of his future.
"You never know what can happen. I don't have a crazy desire to leave but, when the time comes, I will speak with my family and decide what is best for my future. When I go on the internet I see Inter, Real Madrid and I don't know who else, wanting to come for me with a truck load of money. Of course I think about it, but I can't let it go to my head. I'm very calm and down to earth about it. My job is to play football so that these clubs continue to be interested," the Sun quoted Moura as saying.
With Chelsea on the verge of signing Internacional midfielder and Moura's Brazil teammate Oscar and Madird still keeping Tottenham talisman Luka Modirc as their number one midfield target, United's biggest rivals for Moura's signature will be Serie A giants Inter.
The player has already expressed his interest in moving to San Siro and also confirmed that his representatives have held negotiations with the Italians.
"They are a big club and anyone would like to play there. I am no exception. I know my father and my agent have spoken with the Inter president, but they have told me nothing yet. I can't guarantee I'll stay at Sao Paulo until the end of my deal. In football things can change very quickly and this situation is not just down to me," Sky Sports quoted Moura.
United have been on the player's trail for months and had invited his father to Old Trafford for talks earlier this year, reports the Daily Mirror, and has finally sent a delegation headed by chief scout Jim Lawlor to Brazil to wrap up the deal.