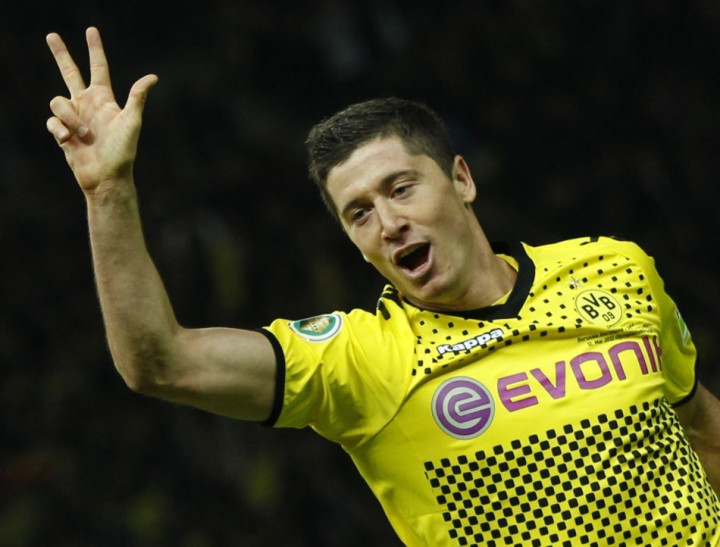 Manchester United manager Sir Alex Ferguson, along with assistant Mike Phelan, will be at the Etihad to watch Borussia Dortmund's Robert Lewandowski. The 24 year old Polish international will be in town to play Premier League champions Manchester City on Matchday Two of the UEFA Champions League.
Lewandowski was believed to be in considerable demand during the summer transfer window. The striker scored 30 times last season, to guide his club to the Bundesliga title and was in good form for his country during the 2012 European Championships.
His consistency in front of goal alerted United, Chelsea and even Arsenal in the summer but Dortmund were, understandably, reluctant to sell. In any case, the movement of Belgian playmaker Eden Hazard to the Blues, Robin van Persie to United and the arrival of Lukas Podolski and Olivier Giroud at the Emirates put the brakes on any concrete approach for the Pole. In addition, Dortmund chief executive Hans-Joachim Watzke, placed a £35m price tag on his player.
"It doesn't matter what's being said. I don't know how often I have to repeat this, but Lewandowski will definitely stay with us. There have not been any official approaches," Watzke emphasised.
The situation seems to have changed, though, and this is particularly the case for United. The ongoing contract dispute with Portuguese forward Nani suggests there could well be a place for Lewandowski at Old Trafford.
Furthermore, the German club's no-sell stance will be compromised by the fact the player's contract is due to expire in the summer of 2014. Lewandowski has ruled out, for now, signing an extension, which means Dortmund may be forced to sell, sooner rather than later, if they are to maximise transfer value. The good news for them, however, is the player's agent, Maik Barthel, was quoted as saying his client would honour his contract with the club.
Lewandowski's current contract expires in 2014 and he is reportedly on a £1.2m deal... something almost any major English club can match without a problem. He has been offered a £2.4m deal but the player is said to want something that puts him in the same wage bracket as German internationals Marco Reus and Mario Gotze, who earn about £4m each.