Manchester United are preparing a £43m bid for Barcelona midfielders Cesc Fabregas and Thiago Alcantara. ESPN believes the Premier League champions' incoming manager, David Moyes, has identified strengthening the central midfield as his priority this summer. The report adds the Scot has also identified Everton star Marouane Fellaini as a possible signing. He has also been linked to Dutch midfielder Kevin Strootman.
Sources from within Old Trafford have reportedly told ESPN the Catalans have placed an £18m price tag on Alcantara's head. However, a bid Fabregas, a former Arsenal player, remains uncertain, with Tito Vilanova unsure about his role next season.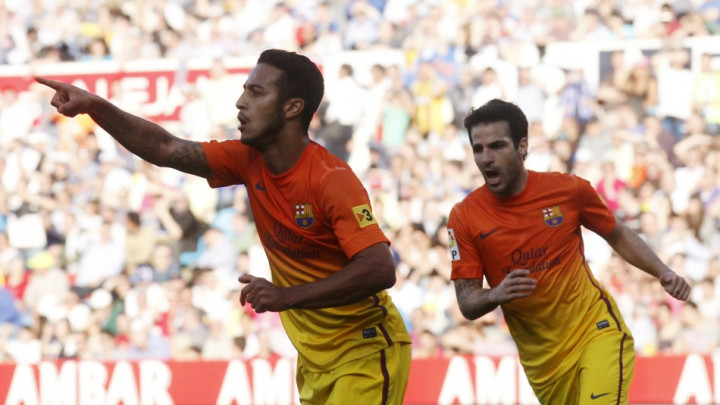 The player himself has yet to comment on the matter and is believed to be still considering his options. The 26-year-old was worth a reported £35m two years ago but ESPN understands he could be released for only £25m this summer.
The Spain international has had a good season with the Spanish champions, scoring 10 goals and creating 11 more from 31 La Liga games. However, despite his excellent return, Fabregas remains behind compatriots Xavi, Andres Iniesta and Sergio Busquets in the Nou Camp pecking order and that is unlikely to change next season.
A move to Old Trafford will afford Fabregas regular first team football, something that could be crucial to his national team ambitions, given the 2014 FIFA World Cup is fast approaching.
Of the two, Alcantara is the more likely signing. The 22-year-old has struggled even more than Fabregas for game time this season and the Spanish international has made only 15 starts in the league, with two goals and five assists to his name.
According to the Metro, Alcantara has a massive £77m release clause but that could come crashing down to £15m if he does not feature in the club's final league game of the season (against Malaga). The midfielder's contract requires him to play more than 30 minutes in 60 percent of the club's games.
Presently with the Spanish U21 side in Israel, for the European U21 Championships, Alcantara stressed that while he was happy to remain in Barcelona, he would consider his professional future before the start of the new season.
"I just live my life and I am very happy. I enjoy it in Barcelona because I have lived through some great times but we will see what happens after the Euros. Any player is used to living with rumours about him and they just cannot affect you," he said.
United do need bodies in central midfield. They've already lost Paul Scholes, who retired, for the second time in his career, after the epic 5-5 draw against West Brom. Brazilian Anderson could leave the club as well, due to a lack of playing time. And Darren Fletcher's bowel condition means he continues to be unavailable for first team duty.