Ligue 1 club Lille have confirmed the extension of the contract of Real Madrid and Manchester United target Lucas Digne. The 19 year old left back is already first-choice at both the Stade Borne de l'Espoir and for the French national team and has been touted as a potentially world-class defender. Digne's contract now runs to 2017. The statement on the club's official Web site reads:
"LOSC and young left fullback, Lucas Digne (19 years), have agreed on a contract extension for another season. The hopes of international Mastiffs is now linked to his former club until 2017. Extending the lease of its defender, the LOSC demonstrates its determination to continue to involve young talented and promising players. Personally and collectively ambitious, Lucas Digne is also one of the forces of LOSC today and tomorrow."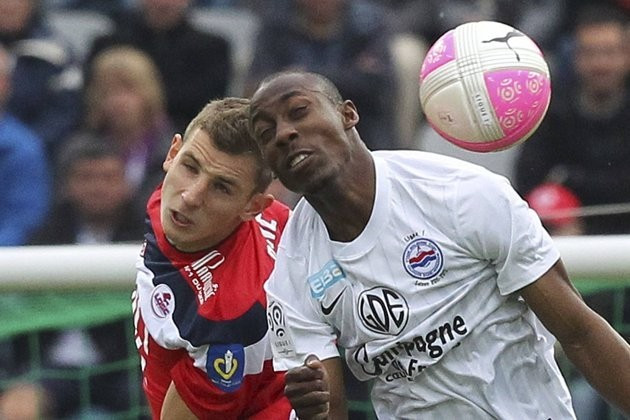 A talkSport report states United boss Sir Alex Ferguson wants to bring the young Frenchman to Old Trafford as a long-term replacement for his compatriot, Patrice Evra, who will be 32 years old by the end of the 2012/13 Premier League season.
Spanish champions Madrid, meanwhile, believe Digne will provide short­-term cover and long-term squad depth at the Santiago Bernabeu, particularly since Jose Mourinho's first choice, Brazilian Marcelo, is out injured till the New Year. An earlier talkSport report said the La Liga giants have already made contact with Rudi Garcia's side over a January transfer.
Mourinho does also have Portuguese international Fabio Coentrao in his squad but the 24 year old is viewed as a more defensive option and also as a utility player, rather than a specialised attacking left back. Marcelo fills that role very efficiently but there are question marks over his ability to balance attacking and defensive duties.
And the Daily Star reports Madrid will step up pursuit of Gareth Bale in January could add to their interest in Digne. It is believed Mourinho will offload Marcelo to Chelsea in order to fund a £57m move for Tottenham's Welsh international. On a side note, the battle to sign (or retain) Bale is likely to be as fierce as Madrid's eventual transfer of Croatian playmaker Luka Modric, despite Spurs' coach, Andre Villas-Boas, admitting they may not hold on to the star winger.
Meanwhile, the Daily Mail also reported that Chelsea had an interest in Digne. The Blues, presently in Japan for the FIFA Club World Cup, need to replace England international Ashley Cole. The 31 year old ex-Arsenal defender is still regarded as a top player but his age counts against him and the defender is in the final year of his contract, with no extension in sight.