Ex-Manchester United defender Gary Neville wants Wayne Rooney to stay at Old Trafford. The 38-year-old one-time right-back called on his former team mate to stay with the Premier League champions; Rooney has been linked with a summer exit following dissatisfaction at his tactical roles and playing time.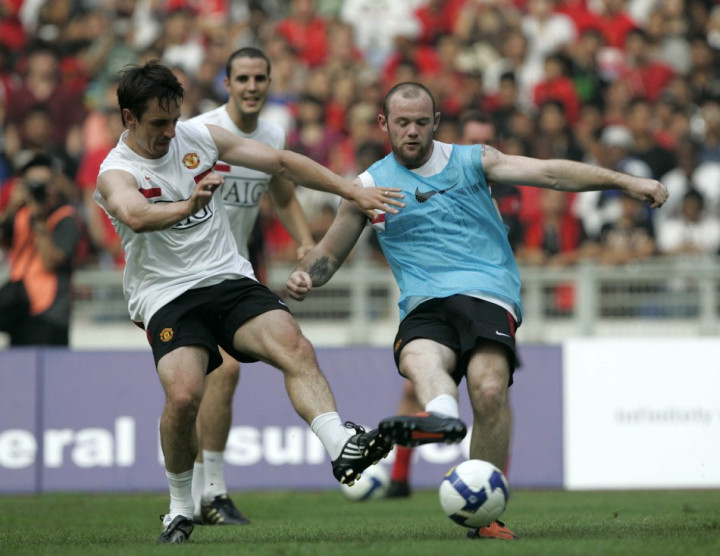 "I played with Wayne Rooney for many, many years. He's a fantastic football player. I've seen Ryan Giggs at 27-years-old get linked to Inter Milan, Juventus and AC Milan and stay. I've seen David Beckham get linked to Barcelona and Real Madrid and leave. I've seen both ways succeed. Personally, with my allegiances, I would never recommend anyone leave because I believe it to be a great stage [to] achieve what you want," Neville told talkSPORT.
Rooney has been linked with moves to domestic rivals Chelsea and Arsenal and Spanish champions Barcelona. In fact, the Gunners have reportedly opened with a £20m bid. Nine-time European champions Real Madrid, under the stewardship of Carlo Ancelotti, have also been linked to the former Everton youngster.
The Mail Online believes new United manager David Moyes and Rooney will meet on Tuesday to discuss his future at the club. The two know each other from their time at Goodison Park, where the Scot helped shape and define Rooney's career.
However, their relationship took a hit after Rooney criticised Moyes for his man-management skills in his autobiography, My Story So Far. Moyes responded by suing Rooney for libel. And it may well be that the left over feelings from that lawsuit play a role in deciding the player's future.
Meanwhile, Neville also backed Moyes' bid for Toffees' and England left-back Leighton Baines. The Mail Online reported a £12m bid for the defender had been rejected. However, United are expected to return with a higher bid.
"I've seen a lot of the speculation over the last few days about Leighton," Neville explained, adding, "He had a fantastic season... was brilliant for Everton. He's been a great performer for the last few years and it's inevitable that he will be linked with the top clubs in the Premier League."