Manchester United veteran is Paul Pogba's ideal partner at Old Trafford, says Danny Murphy
Pogba scored United's first goal in their 3-1 win against Swansea City at the Liberty Stadium.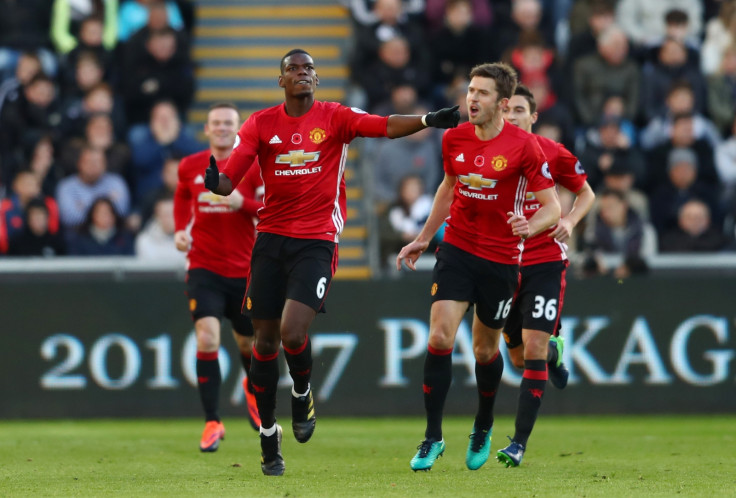 Manchester United midfielder Michael Carrick is the perfect foil for Paul Pogba at Old Trafford. That is according to ex-Liverpool star Danny Murphy, who has hailed Carrick's assured performance in the Red Devils' 3-1 win against Swansea City at the Liberty Stadium on Sunday (6 October).
Pogba, 23, scored the first goal of the game in south Wales and produced one of his best performances since his £89m ($110.5m) summer transfer from Juventus. Murphy believes the Frenchman is best suited to playing alongside Carrick at United, rather than the other midfield alternatives available to manager Jose Mourinho.
"[Mourinho] played a lot of his experienced players and a few of them can be really pleased with their performances," the ex-Liverpool player told the BBC of United's performance. "One in particular I've always been a fan of is Michael Carrick. I'm so confused why he hasn't played more minutes. He adds a stability to the team and a calmness they haven't had in recent weeks."
Murphy acknowledged that at 35, Carrick has lost some of his athleticism. However, he stressed that the veteran midfielder brings a calmness to the United team and is an ideal complement for Pogba.
"He can't quite do the miles he once did but he's good at intercepting. He never panics and gets them out on the attack all the time," Murphy said after United's comfortable win against Swansea.
"He makes things look simple and he's always looking to play forward, through the lines, looking to be progressive, look to get those forward players on the ball in higher positions. They've missed this.
"Him being in the side helps players like Pogba. There's no coincidence that Pogba probably had his best game in a Manchester United shirt [against Swansea) because he had Carrick behind him taking responsibility for possession and getting him the ball higher up the pitch."
© Copyright IBTimes 2023. All rights reserved.