Manchester United have been alerted to the fact that Wesley Sneijder's future is hanging in the balance at Inter Milan after he reportedly refused to re-negotiate a deal.
The Holland international has been heavily linked with a move to Old Trafford in recent seasons but his excessive wage demands and sizeable fee have led to United boss Sir Alex Ferguson refusing to make a solid offer.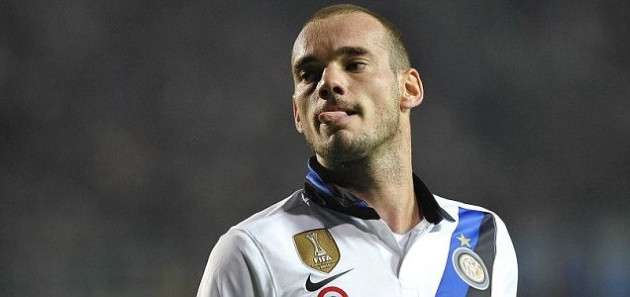 However, in recent months his future has been put into question as Inter want Sneijder to sign a new contract that would see him take a huge pay cut, which has led to him being seemingly frozen out of first team action.
The 28-year-old recently returned from injury only to find that there was no place for him in the Inter squad. Having been forced to sit on the sidelines, Sneijder met with club officials in a bid to resolve the issue and get back to playing.
The Manchester Evening News has reported that Sneijder refused to sign a new deal, with his management company releasing a statement saying: "There is little reason for me to sign."
With Sniejder looking increasingly likely to leave the Italian club, it has been suggested that Manchester United may finally be ready to make an offer. The Guardian believes that he would be available for around €15million, a far cry from the €35m the club were quoted in the summer of 2011.
Many reports had suggested that Inter manager Andrea Stramaccioni had been instructed not to pick the midfielder until his contract issue was resolved. Yet, the inexperienced manager has made it clear that Sniejder is simply not in his current plans.
"My view - as someone who has only experienced this level of football for a short time - is that we should be careful when using terms such as 'victimised'," said Stramaccioni, as reported in the Manchester Evening News.
"If someone who earns 1,000 euros a month heard us, we'd look a bit silly. It's my job to decide who's in the best shape to play and I do so, I make my decisions and I stand by them, so let's please avoid talking about someone being 'victimised'.
"It's my job to pick the best team available, and at the moment I'm not picking him. This has nothing to do with his contract, I have to select the team and Inter come first.
"It's not a case of the president telling me not to pick Sneijder, I pick the team. And I think it's outrageous to suggest Sneijder is being 'victimised'."
Manchester United have failed to find a suitable replacement for Paul Scholes and Ferguson has shown that he is willing to spend on players who are nearing their thirties as Robin van Persie was signed for £24million in the summer.
With the January transfer window fast approaching, Sneijder will hope that his situation is resolved as he has long been considered one of the finest central midfielders in world football.