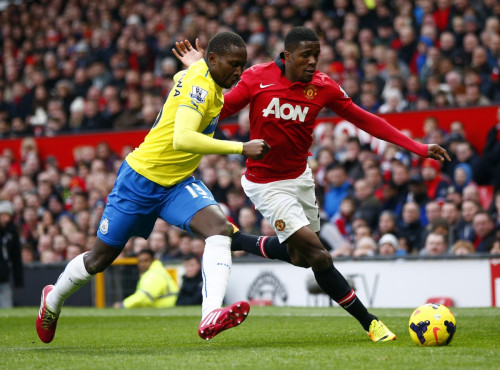 Manchester United winger Wilfried Zaha stormed out of the club's training ground after David Moyes denied him the chance to move out on loan in January, according to Goal.com.
The 21-year-old has not started a league game this season, and with the World Cup round the corner, the England international is desperate for game time to convince Roy Hodgson that he's worth a place on the plane to Brazil.
An injury to Theo Walcott has left a vacancy on the right wing and Zaha, who proved his potential as a winger during his time at Crystal Palace, is keen to fill it.
The winger transferred from Crystal Palace in January last year but was allowed to stay on at the Championship club until the end of the season to help with their successful promotion bid.
The player is currently out of favour with manager Moyes, even though the Red Devils are struggling in the league and currently trail leaders Arsenal by 11 points.
Newcastle United and Cardiff City are both keen to sign Zaha, and both are more likely to offer the player a starting berth.
The Red Devils face Chelsea on Sunday in what could turn out to be a turning point in their season. A loss here will could put them 14 points behind the leaders, while a win would close the gap on the likes of Liverpool, Everton and Tottenham Hotspur, who are all vying for a place in the top four.
Moyes is looking to strengthen his squad in January, particularly since his main strikers, Wayne Rooney and Robin van Persie, are currently flitting in and out of the side with injuries.