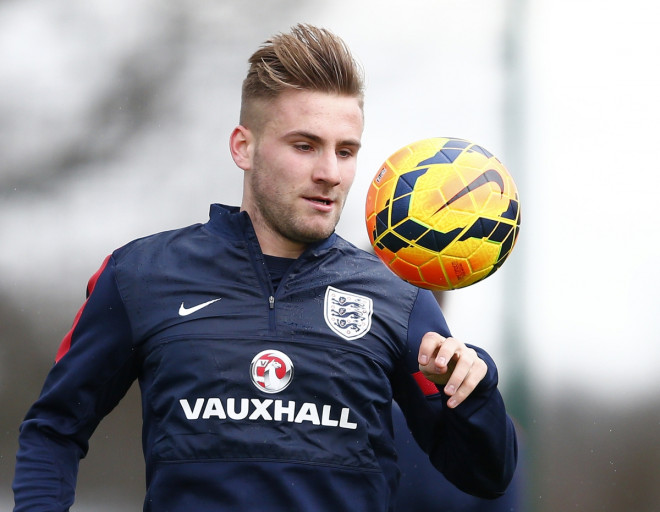 Manchester United's pursuit of Luke Shaw has hit a brick wall after the defender is stallig on a deal without meeting United's new manager, according to the Daily Mail.
The defender, valued at £30m, is on the end of a tug-of-war between six clubs namely Manchester United, Chelsea, Manchester City, Liverpool, Real Madrid and Bayern Munich. United were reported to be favourites for his signature after David Moyes' negotiations with Southampton. However, the former Everton manager has now left the club and the player wants to wait it out for United to announce their next manager and give him assurances over his first team chances.
United are likely to be without Patrice Evra for the upcoming season, with the player yet to sign an extension with the club. The Red Devils are therefore in ardent need of a left-back and Shaw's arrival will be a major boost for their defence which has been leaking goals this season.
The defender made his England debut against Denmark last March and is likely to make the England line-up in place of Ashley Cole, with the latter struggling to make it into the starting line-up.
United will be boosted by appointing an experienced manager after the season ends, failing to do which can have a huge bearing on Shaw's future. Chelsea and Liverpool are on their toes and may make a sizeable offer to the youngster, which will come as a major blow to United, as the defender is a childhood Chelsea fan and may succumb to the lure of working under Jose Mourinho.
Liverpool are also interested in the player in order to relieve their woes at left-back where Jose Enrique has been perennially absent through injury for most of the season.
United are currently being managed by Ryan Giggs, who has taken over as an interim manager from Moyes for the rest of the season. Netherlands manager, Louis van Gaal, is favourites to take over once the season ends.