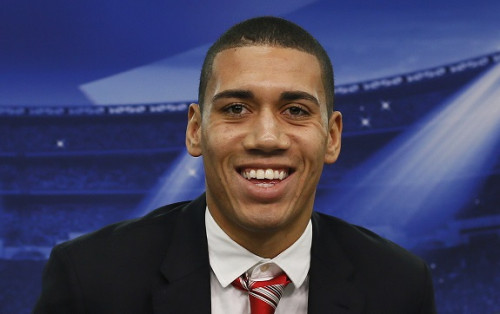 A party jape blew up in Manchester United defender Chris Smalling's face as the player had to apologise for dressing up as a suicide bomber.
The Old Trafford defender was branded a "disgrace" by a relation of a terror attack victim for the costume which he wore at a Christmas party held in his own home.
Smalling, 24, strapped on a military-style green vest featuring circuit boards and wires attached to bottles of alcohol and cans of Red Bull energy drink.
The look also featured a tea towel on his head and was meant to be a twist on Al-Qaida called the 'Jagerbomber' – which is a type of drink popular with clubbers.
But the father of a man killed in the London 7/7 suicide bombings in 2005 called it offensive. Graham Foulkes, of Manchester, told The Sun: "I can't condemn this costume strongly enough."
A statement by Smalling's management company said the outfit had been "ill-thought out and insensitive." It had been "an attempted comedy play" it was claimed.
Wasserman Media Group said: "Chris and his girlfriend hosted a fancy dress party to celebrate Christmas and their belated birthdays with close friends in the assumed privacy of his own home.
"He dressed in a costume consisting of empty bottles of Jagermeister and cans of Red Bull strapped to his chest in an attempted comedy play on the popular 'jager bomb drink'.
"Although he fully accepts in hindsight it was an ill-thought out and insensitive decision, absolutely no harm was intended whatsoever and he apologises for any offence caused."
Smalling has been a regular for Manchester United this season, making 26 appearances and scoring two goals. He is in contention for a place in the England squad at this year's World Cup in Brazil.