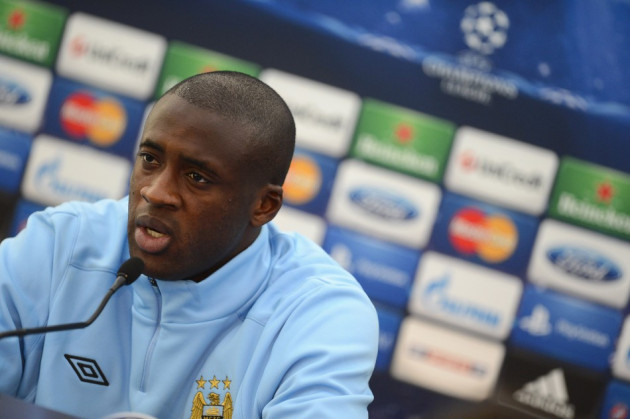 Manchester City star Yaya Toure cast doubt on the ability of Uefa to tackle racist CSKA Moscow fans who made monkey noises at him.
He demanded action from Uefa after a section of Moscow fans racially abused him during the Champions League match.
But the influential midfielder dismissed previous measures by the ruling body Uefa as inadequate, describing them as "blah-blah."
Toure, who looked hurt by the racist abuse aimed at him by a section of the crowd inside CSKA's stadium, said: "Some fans reacted badly - but it is always the same. They say they will stop it but it is all 'blah-blah-blah.' But we have to stop this.
"I hope Uefa will take action about that because we have to stop it. It's always the same. If Uefa don't take some action we will always have it.
"I don't know what I have to say because a couple of months ago one of my friends who plays for Milan had the same problem and Uefa continued with the same blah-blah-blah," he told club sources.
Yaya's 'blah-blah' criticism of Uefa came as rival governing body Fifa piled on pressure for action.
Fifa vice-president Jim Boyce said: "The Russian federation have got to assure - along with the Russian government - that these incidents are put to bed because it's happening too often. Too much abuse has been happening in many, many parts of eastern Europe."
Toure, 30, was wearing the captain's armband in place of the injured Vincent Kompany. The abuse he suffered took the sheen off the 2-1 win for City.
He called the monkey noises "unbelievable" and said there was more abusive chanting than he had ever encountered before.
"I was happy we were winning but sad because the reaction of the fans is unbelievable. [It happened before] but it was not a group of people it was one or two stupid people."
Manchester City complained to the match delegate inside the stadium during the game and filed a complaint to Uefa the next morning.
The incident had echoes of racist abuse aimed at former City striker Mario Balotelli by Porto supporters last season.
A club spokesman told IBTimes.co.uk said the Premier League club would "fight strongly" over the latest incident.
"We lodged a complaint immediately when it happened and we are following this up with a written complaint."