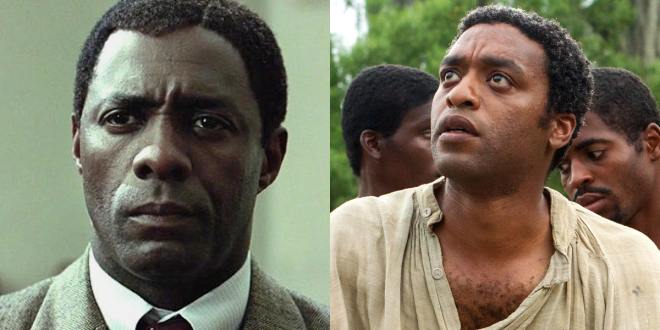 Mandela: Long Walk To Freedom's writer William Nicholson has blamed Oscar-winner 12 Years a Slave for his film bombing at the box office.
Controversially he suggests that the Steve McQueen epic beat his biopic because 12 Years a Slave "sucked up all the guilt about black people".
Nicholson told the Daily Telegraph that the script he had spent 15 years on "worked superbly".
"I'm incredibly proud of this film. Unfortunately it didn't get the kind of acclaim that I wanted. It didn't get Oscars. 12 Years a Slave came out in America and that sucked up all the guilt about black people that was available."
Mandela's distributors The Weinstein Company were certainly hoping for Oscar success, but were pushed out by middling reviews and a packed field of other awards contenders, including Gravity, American Hustle, Wolf of Wall Street and Dallas Buyers Club.
At the global box office Mandela: Long Walk To Freedom took just $27.3 million (£16.3m) - not even making back its meagre $35m (£20.8m) budget.
"They [the audience] were so exhausted feeling guilty about slavery that I don't think there was much left over to be nice about our film," Nicholson continued. "So our film didn't do as well as we'd hoped, which was a bit heart-breaking.
"We showed it to test audiences very extensively and it got astounding responses. These things are measured in percentages and it was in the high 90s every time. So, honestly, we thought we had a winner. And when it didn't become a winner it was devastating, actually, it was very distressing.
"I really thought it was going to win lots of awards, partly because it's a good story but also because I thought I'd done a really good job and the director had done a really good job. So it has been very tough for me. Some things work and some things don't. You just have to soldier on."
Famously word of Nelson Mandela's death broke as the film's royal premiere in London was taking place, with star Idris Elba (who played Mandela) informing the audience at the end of the film. Despite the surge of interest in Mandela's life following his death, Nicholson believed it actually hindered the biopic's success.
"Mandela died as I was in the royal premiere with Will and Kate. Suddenly the word came through that he died. We were deluged with Mandela stuff and after a week we all thought, please, take it away, we've heard enough about Mandela," he said.
Nicholson also took issue with the real Mandela's speeches, claiming he wrote those in the film himself. "All but one of the speeches were made up by me because his own speeches are so boring. I know it sounds outrageous to say a thing like that, but when he came out of prison he made a speech and, God, you fell asleep," he said.