Manny Pacquiao has admitted that he is currently in talks with rapper-turned-promoter 50 cent about working with the music mogul in the very near future.
50 cent, real name Curtis Jackson, had recently set up a company called TMT Promotions which had already signed world title challenger Andre Dirrell; former world champion Andre Berto and current IBF featherweight champion Billy Dib.
It had been assumed that Floyd Mayweather would also box under the new promotional company as he is known to be close friends with Jakcson.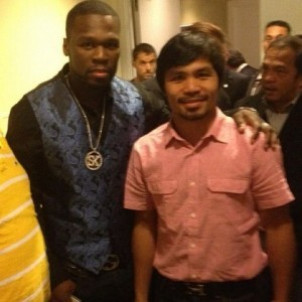 However, it now seems as though there could be a partnership between Jackson and one of Mayweather's closest rivals, Pacquiao.
"I love music, and he likes boxing also," Pacquiao told MTV News. "We're talking about that and we're discussing. We didn't finalize yet because I'm so busy right now and he's busy right now."
Pacquiao is preparing for a fourth bout against Mexican legend Juan Manuel Marquez which takes place on December 8, but his business advisor Michael Koncz believes that a deal could soon be signed.
"We've very close to it, I've been talking to 50 Cent now for over a month and a half, close to two months. It's becoming a reality, more than a possibility," said Koncz. "I think we're going to end up doing something together before the year is out."
Jackson is seemingly keen to bring something new to the sport and the signing of Pacquiao would certainly cause shockwaves amongst the established American promotional companies.
It also appears as though there could be a time when both Pacquiao and Mayweather come under the same stable and are both represented by Jackson.
"Floyd is always welcome, if we put this together, the door will always be open for Floyd to join in." stated Koncz, before revealing Mayweather has been involved at every stage. "They approached us, they came to us and initially it was 50 Cent, Floyd and Manny. We don't have a problem with Floyd. Manny doesn't have any anger or resentment."
A possible match between Pacquiao and Mayweather is also seemingly back on the cards, with the Filipino great admitting that he would still like to make the fight happen.
"There's a possibility to make that fight happen. Maybe not this time, but some other time," he said. "Right now I'm focused on December 8."