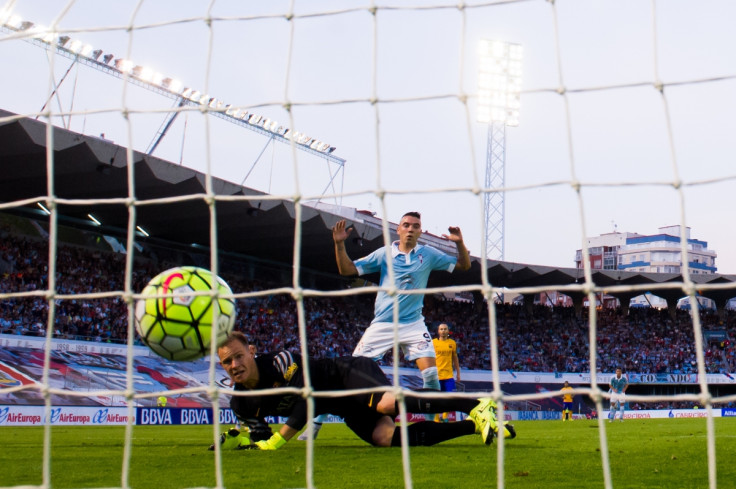 Barcelona goalkeeper Marc-Andre ter Stegen has confirmed he will stay at the Nou Camp next season, despite speculation linking him with a summer move to Manchester City or Liverpool. The Germany international previously admitted his future with the Catalan outfit was uncertain, but he has now indicated in an interview with the club's official website that he is happy in La Liga and wants to stay at Barca.
The Telegraph reported last month that the 24-year-old was ready to leave in the summer to move to the Etihad Stadium, with Pep Guardiola looking to beat Liverpool for the player's signature and make him his first signing at the club in a £20m ($28.2m) deal.
These reports came just after the player fuelled rumours by admitting his discontent with Luis Enrique's rotation policy between the sticks, with Ter Stegen featuring in the Champions League and Copa del Rey but only serving as Claudio Bravo's back-up in La Liga.
Even so, reports in Spain say Barcelona see the custodian as an essential figure for the club's future, especially as Bravo is already 32-years-old. Sources at the club, according to Sport, said they would not negotiate the player's departure for anything less than his €80m. Other reports indicated Barcelona would be handing Ter Stegen a significant pay rise to convince him to stay.
Whatever the truth was, Barcelona seem to have won the battle, with Ter Stegen confirming his intentions to remain at the Nou Camp for the long-haul.
"It's a lovely place to live," Ter Stegen said to Barcelona TV. "I feel fine here and want to stay at this club, and carry on with this nice life that I have."
The former Borussia Monchengladbach goalie also expressed his desire to help Barcelona finish the season in good shape, with the double of La Liga and the Copa del Rey still attainable.
"We'll see how things happen. But we have a good opportunity to win the league and the cup as well," the Barcelona keeper added. "There was a time when we had nine points more than the others. But that's life, that's football, you can't relax. We are still in a very good way. We have two matches left and every possibility to win the league. We all want to win it. We want to prepare as well as we can for these matches."
"Atlético Madrid and Real Madrid are pressing from behind and they will both fight for the title until the end. But we just have to concentrate on our own tasks. With our fans behind us we are much stronger."
The German is expected to start the last two La Liga games of the season, as well as the Copa del Rey final against Sevilla, after Bravo went down injured during a win over Real Betis.
Ter Stegen concluded: "Me, Claudio and [third keeper] Jordi Masip all want to play and we work hard every week to do that. I think that's the right idea for the team, for us all to be ready all the time."