Liverpool striker Mario Balotelli has apologised for an Instagram post which included anti-Semitic and racist references and could lead to a five-match ban from The Football Association.
The 24-year-old posted an image of Nintendo character Super Mario, before deleting the post after a string of comments on social media regarding the insulting content of the message.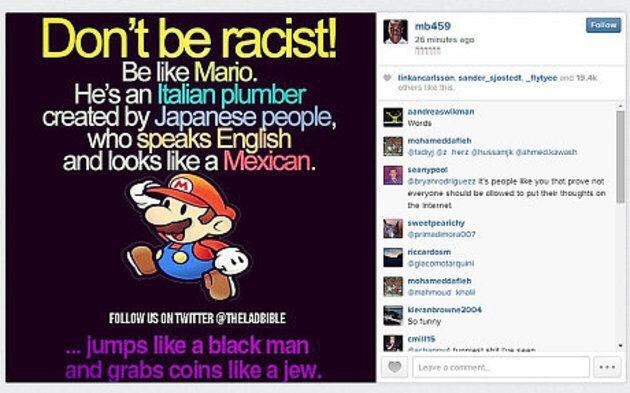 As the anger mounted at the post, Balotelli tried to defend his actions on Twitter. "My Mom is jewish so all of u shut up please," he wrote. The controversial star was raised by adoptive parents in Italy.
The FA have since confirmed they will investigate the post, which if Balotelli is found guilty could see the Liverpool forward banned for a minimum of five games though the Italy international has attempted to pour cold water over the episode by submitting an apology on Tuesday morning.
"I apologise if I've offended anyone," Balotelli said on Twitter. "The post was meant to be anti-racist with humour.
"I now understand that out of context may have the opposite effect. Not all Mexicans have moustache, not all black people jump high and not all Jewish people love money.
"I used a cartoon done by someone else because it has Super Mario and I thought it was funny and not offensive. Again, I'm sorry."
English football's governing body have three days to request written observations from Balotelli regarding the message after which The FA will decide whether to charge the player at the beginning of a process which could last more than three weeks.
The incident casts another shadow over football after Wigan Athletic owner Dave Whelan was last week charged by The FA after making anti-Semitic comments in the media.
Balotelli hasn't played for Liverpool since suffering a hamstring injury during the International break at the start of November, missing the games against Crystal Palace, Ludogorets Razgrad and Stoke City.
The former Manchester City forward will also miss the trip to Leicester City on Tuesday but following the latest in a string of off the field controversies Balotelli will no doubt be the centre of attention as Liverpool go in search of their second straight league win.