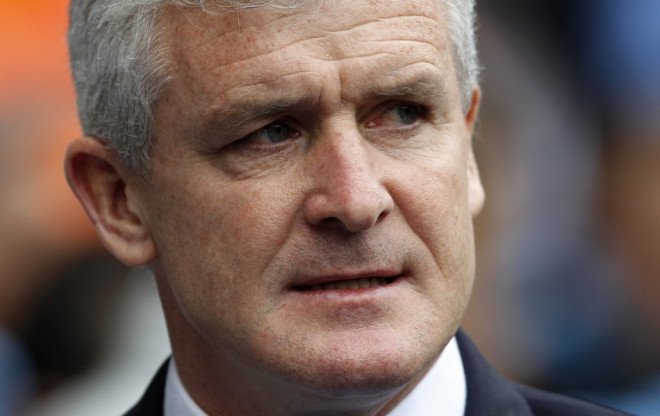 Mark Hughes has admitted that Stoke City does not hold any fears to face Arsenal ahead of the clash between the two clubs at the Britannia Stadium on Saturday.
The Gunners are currently placed second in the table with 59 points from 27 games, trailing league leaders Chelsea by a point. The Potters have already registered victory over Manchester United and Chelsea at home and Hughes is hopeful of winning against Arsene Wenger's side.
The former Manchester City manager claims that Stoke will not be afraid of facing the top clubs in the league, especially when they are playing in front of the home crowd. Hughes remains confident that Arsenal will not underestimate his side for their upcoming fixture on Saturday.
"This game doesn't hold any fears for us, because we have come up against other so called stronger teams in the league and performed really well, especially at home," Hughes told Stoke's official website.
"It's a credit to the lads that they have been able to produce what they have done against the likes of Manchester United, Chelsea and Manchester City at the Britannia Stadium this season."
"Because of that we know that we can cause the stronger teams in the league a lot of problems, and Arsenal will know that themselves too."
"They won't underestimate us one bit, just as nobody does when they come here to face us at our place. We are really looking forward to the game to be perfectly honest, and there is absolutely no apprehension in terms of our attitude to the game."
"It's all about going out there, doing the right things and then hopefully being rewarded with all three points – that is the aim," he added.
Meanwhile, Arsenal manager suggested that Stoke have changed their style of play under their new manager Hughes. The 50-year-old replaced Tony Pulis as the Potters manager before the start of the season and Wenger claims Arsenal's next opponent play a more "elaborate style."
"They've changed under Mark Hughes. They play a more elaborate style. It is on the ground more and they have different personnel as well now. But they still can be very dangerous too," Wenger told Arsenal's official website.