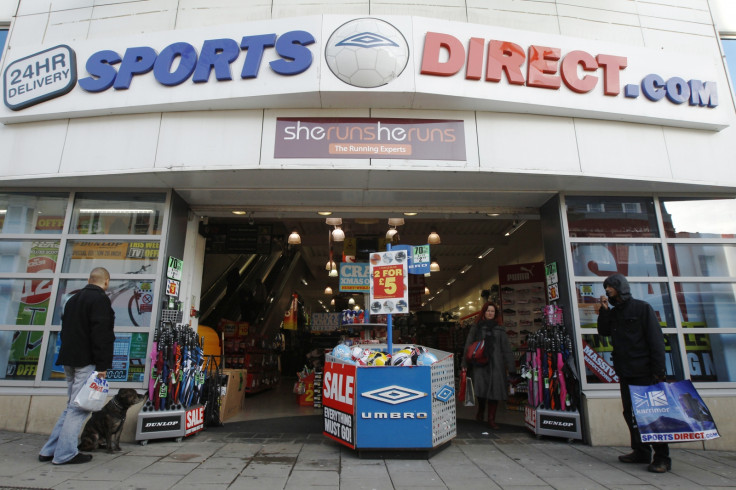 The FTSE 100 rose slightly by 0.11% today (28 May) after dropping in early morning trading as well as dipping right before close.
Sports Direct, the sports merchandise giant founded by Newcastle United owner Mike Ashley, saw its shares jump by 4.18% after it announced its pre-tax profit and earnings per share were better than expected.
As analysts advised investors to buy shares in Arms Holding, technology provider for Apple, its share rose by 29p, making it the second biggest riser.
Kingfisher was the third riser after it announced developments in its plans to close a quarter of all B&Q stores in the UK.
Investment adviser Canaccord Genuity told shareholders not to sell or buy shares in industrial rental company Ashtead Group on 21 May 2015, and the company has been falling since. Before that, Canaccord analysts gave Ashtead a 'buy' rating.
EasyJet's shares have been falling since Ryanair started a budget airline offensive on the company.
FTSE 100 biggest risers
Sports Direct Intl +27.50 (+4.18%) 686.00
ARM Holdings +20.00 (+2.55%) 1,168.00
Kingfisher +8.20 (+2.24%) 375.00
Dixons Carphone +9.20 (+1.98%) 473.50
Direct Line Insurance Group +6.00 (+1.81%) 337.00
FTSE 100 biggest fallers
Ashtead Group -56.00 (-4.60%) 1,161.00
BT Group -9.25 (-2.02%) 449.75
easyJet -30.00 (-1.81%) 1,624.00
Marks & Spencer Group -9.50 (-1.59%) 587.00
Intertek Group -39.00 (-1.51%) 2,537.00
FTSE AIM 100 biggest risers
Monitise +2.75 (+26.83%) 13.00
Plus500 +50.25 (+18.49%) 322.00
Rockhopper Exploration +5.25 (+8.64%) 66.00
Sirius Minerals +1.50 (+6.67%) 24.00
Brooks Macdonald Group +105.50 (+6.20%) 1,806.50
FTSE AIM 100 biggest fallers
LXB Retail Properties -39.50 (-29.48%) 94.50
Greenko Group -3.75 (-7.54%) 46.00
Tungsten Corporation -6.50 (-6.57%) 92.50
Plexus Holdings -11.75 (-5.25%) 212.00
Advanced Medical Solutions Group -6.00 (-3.88%) 148.75