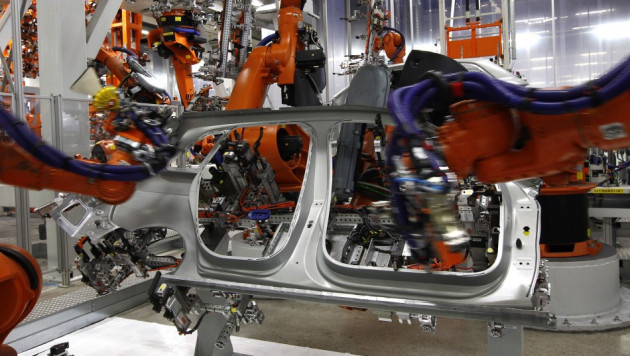 Manufacturing activity in the eurozone has improved in June, indicating a further stabilisation in the sector, but the development is unlikely to stop the single-currency region from posting a negative growth in the second quarter.
The Markit flash eurozone manufacturing purchasing managers' index (PMI) rose to a 16-month high at 48.7 from 48.3 in May. Analysts estimated a reading of 48.6 for the month.
Nevertheless, the manufacturing sector still remains in contraction as the index reading is below 50.
A sub-index measuring manufacturing output rose to 49.5, a 16-month high, from 48.8 in May.
"The flash PMI indicates that the Eurozone contracted again in June, rounding-off another weak quarter, but there are reassuring signs that the downturn is continuing to ease," Chris Williamson, chief economist at Markit, said in a statement.
In France, the manufacturing PMI rose to a 16-month high at 48.3 in June from 46.4 in May. Manufacturing output index surged to 48.1 from 45.2.
Meanwhile, the PMI fell to a two-month low in Germany, declining to 48.7 from 49.4 in May. The lower index reading was primarily due to a sharp decline in new orders and new export orders.
Job losses have been at the highest level in Germany since the start of 2010 and they increased in France as well.
Markit noted that the rate of decline outside of France and Germany has slowed sharply in recent months, and is now the weakest for two years.
"The survey data suggest that GDP is likely to have shrunk by 0.2% in the second quarter, similar to the fall seen in the first three months of the year and extending the region's recession into a record seventh successive quarter," Williamson added.
"Encouragingly, however, the rate of contraction has eased over the course of the second quarter, with the decline in June the smallest for 15 months. At this rate, the region could stabilise in the third quarter and return to growth in the fourth quarter."
The data will provide some relief for the European Central Bank (ECB) amid signs that the recession in the 17-nation bloc is easing.
"Euro area policymakers will no doubt be encouraged by these improving indicators, suggesting the ECB will see no need for any further action in the near term," Williamson said.