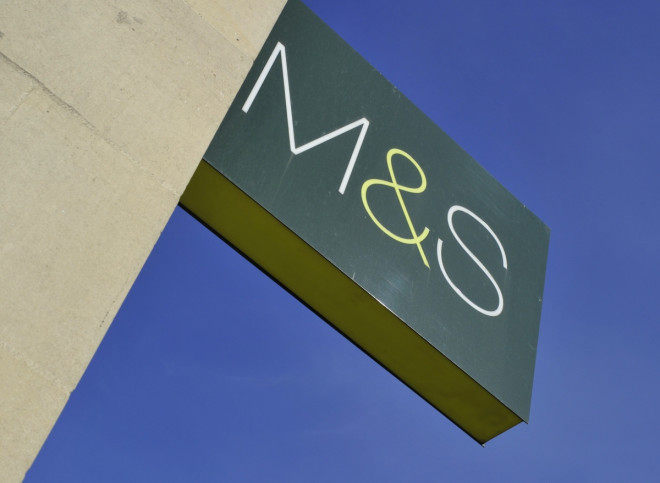 Marks and Spencer shares are leading the FTSE 100 in early trading after the British retailer revealed that its clothing sales is finally starting to improve.
The M&S stock price hit nearly 3% on market open to 467.80p as the bellwether retailer said it was finally feeling the positive effects of its 'turnaround programme.'
"We delivered another quarter of improvement in General Merchandise," said Marc Bolland, chief executive at M&S in a statement.
"Clothing sales were up 1.3% in total, up 0.6% on a like-for-like basis. We are encouraged by Womenswear, which is showing clear signs of improvement and performed ahead of clothing.
"Our food business had another great quarter, especially considering the later timing of Easter. This marks our 18th consecutive quarter of growth. We continued to outperform the market with record sales around key events including Valentine's Day and Mother's Day."
M&S has battled to boost its clothing sales for years while its food range has continued to deliver on bumper profits.
In January this year, M&S revealed unveiled a fall in clothing sales for the 10th consecutive quarter.
According to the group's third quarter trading update, M&S cut its UK gross margin guidance for the full 2013-14 year after having previously issued guidance of a rise of 30 to 50 basis points. However, it avoided a formal profit warning thanks to a solid performance from food.
During the fiscal third quarter, sales of non-food products, spanning clothing, footwear and homewares fell 2.1%. M&S's food business, which contributes over half of group sales rose by 1.6% in line with analysts' expectations.
Bolland said at the time: "The step-by-step approach to improve our general merchandise is slowly improving but we have always said that it will be step-by-step."
"Our market share has been stabilised over the quarter and it has even been for womenswear slightly improved."
Last summer, Bolland received near-unanimous shareholder backing, to return as the group's director, despite overseeing two consecutive years of falling profits and grabbing a bumper remuneration package.
The M&S boss pocketed a £2.14m (€2.47m, $3.18m) pay packet in 2013, including a bonus of £829,000.