March's warm weather might have helped Marks and Spencer as shoppers were encouraged to buy into spring clothing collections. While the older and wealthier customers are becoming more confident about their finances.
Analysts expect 0.8 percent increase in sales from UK stores, but M&S remains cautious on its outlook for 2011-12 due to the rising pressure on consumers' disposable incomes and higher commodity prices.
Confidence among British consumers will come into spotlight when Marks and Spencer reports its fourth-quarter trading for the 13 weeks ending March 31, 2012 on Tuesday.
Updates from M&S and Burberry on Tuesday and Debenhams and WH Smith on Thursday, as well as official U.K. retail sales data for March will reveal the strength of consumer spending and prospects for 2012 as hopes on tentative recovery grow.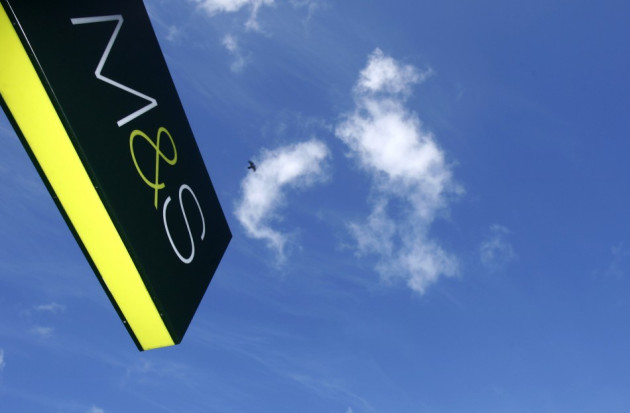 According to the clothing and home products retailer, priorities for the year ahead are clear and the board will concentrate on delivering exemplary governance at the highest level to enable its executive team to drive the group's strategy forward.
Marks & Spencer performed well in a challenging trading environment in its third quarter with group sales excluding VAT up by 2.4 percent. Clothing sales were up 1.1 percent, Home sales were down 13.3 percent, Food sales rose 4.5 percent and International sales reported a growth of 8.1 percent.
With the ongoing macro-economic uncertainty, M&S expects trading conditions to remain challenging and its focus will be on offering its customers great value and quality at a time when they are managing their budgets carefully.
Whilst CEO Marc Bolland is expected to face questions on management changes at the group after a series of departures in recent weeks.
Britain's biggest clothing retailer, which also sells up market foods and homewares, is forecasted to report sales at U.K. stores open over a year between 0.4 -1.6 percent higher in its fiscal fourth quarter to end-March, a Reuters poll of 10 analysts showed. That compared to a third quarter rise of 0.5 percent. The group's like-for-like general merchandise sales are forecasted between the range of 1 percent fall and 1.5 percent rise. Food sales on the same basis are expected 1 to 2 percent higher, having risen 3.0 percent in the previous quarter. Investec recommends 'Hold' rating on the stock.
Below is a summary of sector comparisons in terms of price earnings, earnings per share, dividend per share, dividend yields, return on equity and price-to-book ratio. The table explains how the company is performing against its peers/competitors in the sector. The table below represents ten companies based on market capitalisation.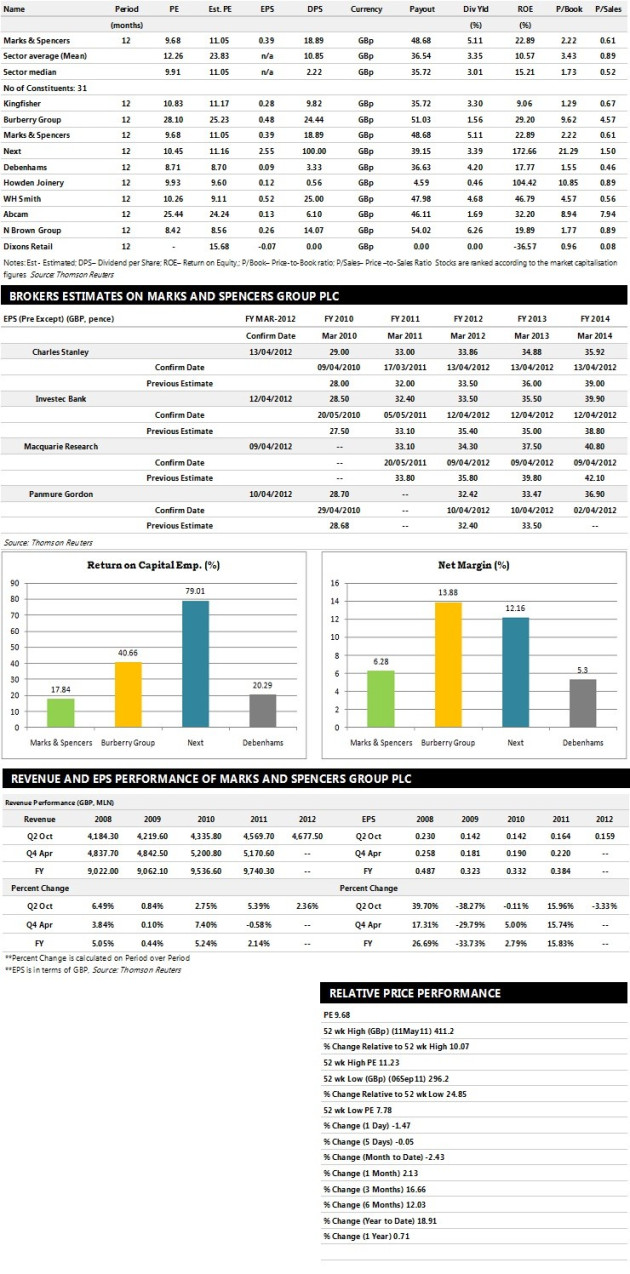 Brokers' Views:

- Charles Stanley recommends 'Hold' rating on the stock
- Macquarie Research recommends 'Out Perform' rating with a target price of 400 pence per share
- Nomura Securities assigns 'Out Perform' rating with a target price of 435 pence per share
- Panmure Gordon assigns 'Hold' rating with a target price of 390 pence per share
Earnings Outlook:
- Charles Stanley estimates the company to report revenues of £10,125 million and £10,454 million for the FY 2012 and FY 2013 respectively with pre-tax profits (pre-except) of £730 million and £716 million. Earnings per share are projected at 33.86 pence for FY 2012 and 34.88 pence for FY 2013.
- Panmure Gordon projects the company to record revenues of £10,036 million for the FY 2012 and £10,379 million for the FY 2013 with pre-tax profits (pre-except) of £689 million and £701 million respectively. Profit per share is estimated at 32.42 pence and 33.47 pence for the same periods.
- Macquarie Research expects Marks & Spencers to earn revenues of £9,999.06 million for the FY 2012 and £10,420.19 million for the FY 2013 with pre-tax profits of £710.33 million and £779.82 million respectively. EPS is projected at 34.30 pence for FY 2012 and 37.50 pence for FY 2013.