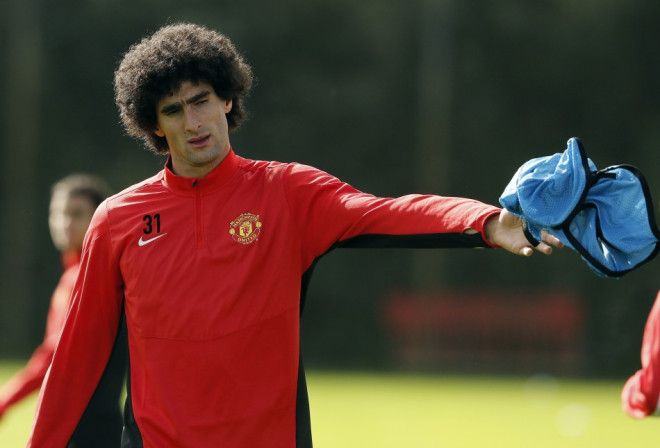 Manchester United midfielder Marouane Fellaini has escaped punishment from the Football Association after being cleared of spitting at Pablo Zabaleta in his side's 3-0 defeat to Manchester City.
The Belgian midfielder was pictured standing over the felled City full back moments after the pair clashed in last Tuesday's Manchester derby and could have faced a three match ban.
But a statement from an FA spokesperson said: "After studying all the available footage the FA have decided there is no case to answer for Marouane Fellaini."
Moments before the alleged spitting incident, the Belgian midfielder was deemed lucky to escape with just a yellow card after aiming an elbow at the Argentine during the first half of his side's defeat.
Zabelata felt Fellaini should have been showed a straight red card for the elbow, but the former Everton midfielder insisted it had not been intentional.
"I don't know, but I certainly didn't do it on purpose," Fellaini said following the incident. "I put my arm up to try and protect possession of the ball, and Zabaleta bounced (his jaw) against it. He was unlucky to make contact.
"The movement by me was in an aggressive manner. It was a defensive move to protect the ball."
Last week United manager David Moyes insisted his £27.5m summer signing was free of any wrong doing. "Marouane is adamant that at no time did he do that," said Moyes, speaking last Friday.
"We'll work with the FA to clear it if that's what we have to do."