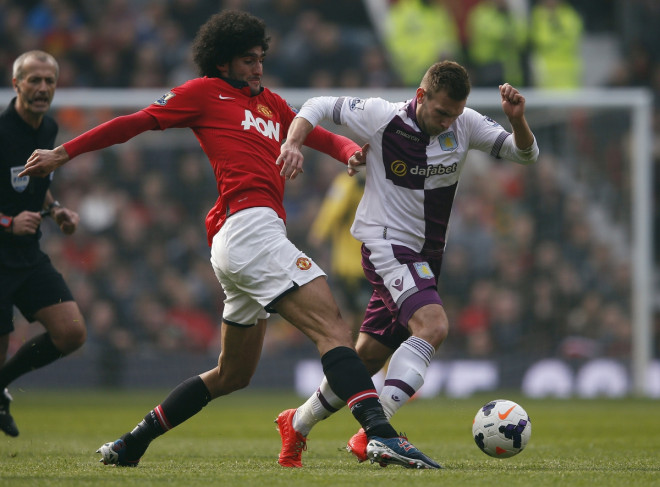 Marouane Fellaini insists that he wants to improve his performance and impress at Manchester United.
The midfielder has endured multiple injuries in his debut season with the Red Devils. Fellaini had initially undergone a wrist surgery in December last year and was suffering from a back problem. Both setbacks made him cumulatively sit out of 11 Premier League matches during that period till February.
Since shrugging off his injury woes, the 26-year-old has started in six league matches so far out of which United have won four. Fellaini further stresses that he has gained confidence and hopes to aid United attain positive results in all the matches till the end of the campaign.
"I was injured for a while but I know I can play better for the team. I feel more confident in myself now because I know the players and I know how to play in this team, which is important for me," Fellaini told United's official website.
"I was frustrated to watch so many matches from the stands and it was difficult. But it is great to be back and I have played a lot of games recently. We have picked up some good results and have improved as a team as well, so I want to keep that going."
Fellaini also admitted that the switch from Everton to Old Trafford for a fee of £27.5m on deadline day last summer, was a bit of a shock for him.
However, the Belgian international reveals that he has managed to cope with the pressure and has managed to gel in David Moyes' squad, which has helped him as well as the team.
"I am excited about what is to come and I am determined to be successful for this club. Of course it was very frustrating because I was at a new club with new team-mates and I wanted to play, I wanted to win and I wanted to impress," the midfielder said.
"When I arrived, I didn't know the players and the team at all, but now I know everybody and I am benefitting as a result. I have played well in quite a few games, so I am happy with that," Fellaini concluded.