Martin Demichelis: Manchester City star says Liverpool vs Arsenal draw may tilt Premier League race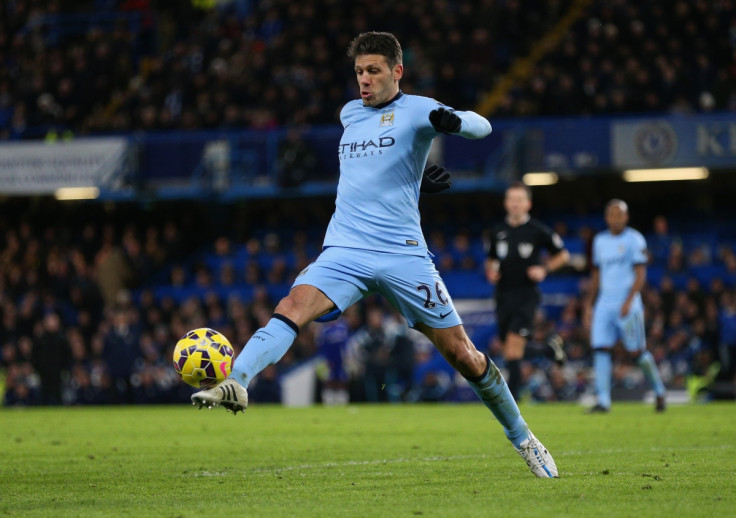 Martin Demichelis thinks Arsenal's 3-3 draw against Liverpool at Anfield may prove decisive in the Premier League race. The Manchester City defender has claimed the Gunners' concession of a late Joe Allen goal could be a turning point in the season.
City, for their part, were held to a goalless draw against Everton on the same evening, on 13 January. The 35-year-old admitted it would have been concerning for his team if Arsenal had managed to hold on for the win and opened up a five-point gap between themselves and City.
"I think it was important Arsenal didn't win. We are just three points behind the leaders and we must continue to fight until the end," he said, according to The Mirror. "We have a lot of games to recover the three points to Arsenal. Of course we need as soon as possible to win three points because Arsenal must play away at Stoke, which is a difficult game. We have a chance to close the gap.
"We must continue like we played in the second half against Everton. If we do, then we will win the next game, and the next."
Demichelis's thoughts have been echoed by his Manchester City team-mate Bacary Sagna, who spent seven seasons with Arsenal before moving to the Etihad Stadium. "We have a chance to be champions," he said.
"I'd say this [against Everton] was a good point on the night now. If Arsenal were five points ahead of us, it'd be very difficult to catch them. Liverpool managed to come back and, at the end of the day, we're still three points behind."
Of Manchester City's Premier League title hopes, Sagna added: "We're still confident. We didn't win against Everton, but we didn't lose either. When you can't win, don't lose."
Manchester City face Crystal Palace on 16 January. Meanwhile, league leaders Arsenal play Stoke City at the Britannia Stadium the following day.
© Copyright IBTimes 2023. All rights reserved.