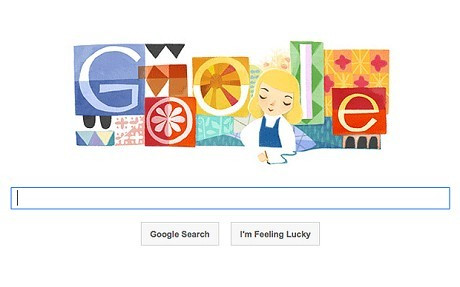 Google is celebrating the 100th birthday of Disney artist Mary Blair, who brought film such as Alice in Wonderland and Peter Pan to our screens.
The usual home page has been replaced with a logo that resembles Blair's distinctive style, which she used to draw the concept art for many of our favourite animated films.
The doodle can be viewed by going to the home page, it has been noted that the second 'g' is a caricature of Mary herself who died at the age of 66 in 1978.
In 1934, she married Lee Everett Blair, who also worked for Walt Disney, and with whom she worked alongside on films such as Dumbo and Fantasia.
In the 1950s she worked on the colour styling of Alice in Wonderland, Peter Pan and Cinderella, which shot her to fame.
Her work can still be seen in the Disney murals painted in the 1960s at the Disney resorts, including a 90 foot piece of artwork at the Contemporary Resort hotel.
Following her death in 1978, she was awarded a Disney Legend accolade and even now, her work lives on as thousands of Disney films are sold every day.