Mass Effect 3: Operation Patriot Multiplayer Weekend Under Way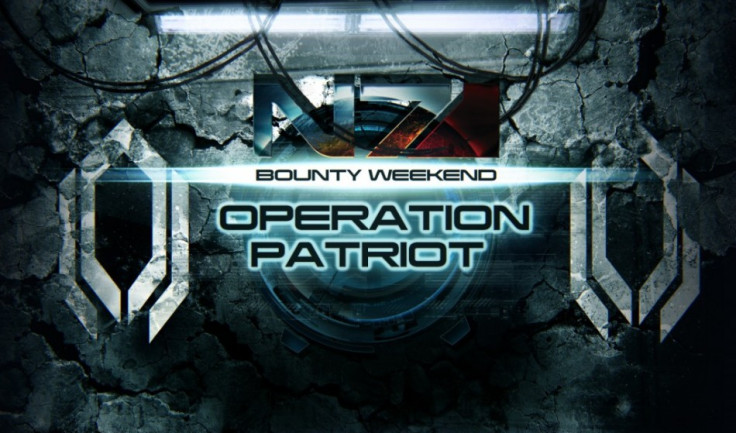 BioWare schedules yet another Mass Effect 3 multiplayer weekend event, Operation Patriot, from 21 September to 23 September to keep its loyal fans busy, with a chance to unlock a new weapon for co-op game play.
"Cerberus continues to put pressure on our troops, hindering our fight against the Reapers. Our allies have committed their top military units to target Cerberus' most valuable assets: their Atlas Mechs," reads the game synopsis on the BioWare blog post.
The community goal for Operation Patriot requires the players to kill 600,000 Atlas Mechs on any map and any difficulty. The squad goal requires you to finish a match with all players representing the same non-human race, with the added constraint of recruiting at least two or more players in your squad to complete the mission.
As Cinemablend notes, besides accomplishing the two primary goals, players have to contend with slower than normal escort drones and challenging escort missions introduced with the new Earth DLC. On successful completion of allied and squad goals, players will be rewarded with a victory pack and commendation pack respectively.
For the first time in Mass Effect 3 multiplayer history, you get the privilege to unlock a new weapon - Argus Assault Rifle - the weapon highly favoured by C-Sec officers in the single-player campaign. In addition, BioWare has released an intriguing infographic depicting multiplayer community stats.
The player stats date back to the advent of Earth DLC for multiplayer campaigns. The stats suggest over 1 trillion credits have been spent, and about 13.4 million Brutes have been killed by players.
The complete statistical rundown or telemetry for the multiplayer weekend event is portrayed in the image below: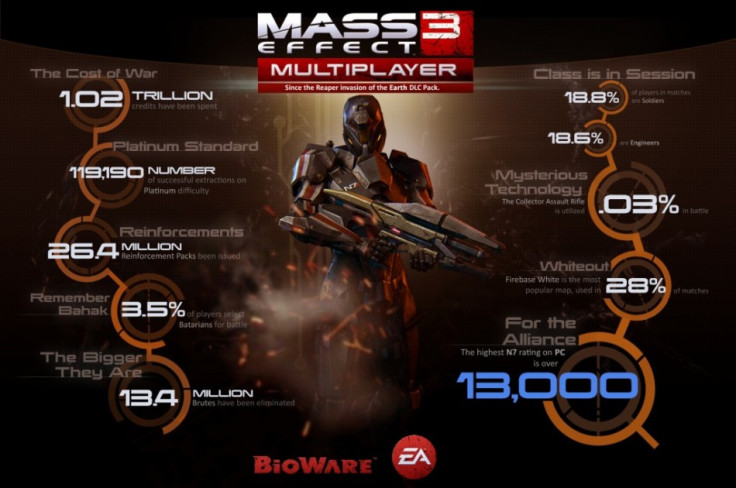 © Copyright IBTimes 2023. All rights reserved.