Massimo Briaschi expects Edin Dzeko to move to Chelsea this January
Dzeko's move to Chelsea has thus far been held up by concerns over game time.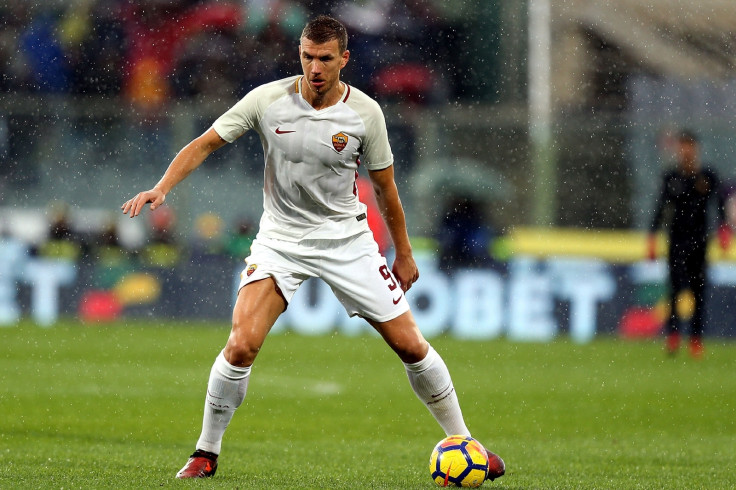 Former Juventus forward and football agent Massimo Briaschi believes Edin Dzeko's move to Chelsea will happen as he already has one foot in London after being heavily linked this January. The Roma forward is among a scourge of strikers to have been set up for a move to Stamford Bridge with Antonio Conte looking for a physical presence up front alongside Alvaro Morata.
Dzeko's move to Chelsea has thus far been held up by concerns over game time, with the striker not willing to play as back-up to Morata. Conte has already established that he does not like Michy Batshuayi as Morata's back-up by not picking him in the starting line-up against Arsenal in the Carabao Cup semi-final.
The Belgian is likely to be sent on loan if Chelsea sign another striker but no movement has been made on that front thus far. West Ham striker Andy Carroll, Stoke's Peter Crouch and Burnley's Ashley Barnes are among the names to be linked with a move to the Bridge alongside Dzeko. Gunners striker Olivier Giroud has also come up as a potential target but there has been no movement on that front thus far.
Chelsea are eager to bring Dzeko back to English football, having previously spent some time at Manchester City, as part of a possible double transfer coup that would also see left-back Emerson Palmieri arrive at Stamford Bridge. A deal worth £44m ($62.6m) plus add-ons of £13.2m was reported to have been accepted for the pair but there has been no movement on that front thus far.
However, football agent Briaschi expects the deal to get over the line eventually as both parties are interested in the move.
"Now he has a foot in London," the former Juventus hitman told Tutto Mercato Web Radio, as quoted by the Express. "There are still situations to be fixed but I think he will go to Chelsea. The proposal is important for Roma and the player."
Meanwhile, Conte has confirmed that they will allow Batshuayi to leave the club on loan in January given his lack of involvement in the first team, should they sign a striker.
"It's the same as Kenedy. If another striker arrives, then Batshuayi will go on loan. I think he wants to have the opportunity to play with regularity. I think this is right," Conte said, as quoted by the Evening Standard.
"If we stay with the same players from the start of the season, it doesn't change. One player goes out, one player comes in. One player comes in, one player goes out.
"I think we have to try in every moment to be honest with our players. I don't know if another striker will arrive for Chelsea.
"But, in this case, I don't want to send away any player. But a lot of times it's the player saying he prefers to go away to have the possibility to play regularly. Then you have to show you deserve to play every game."